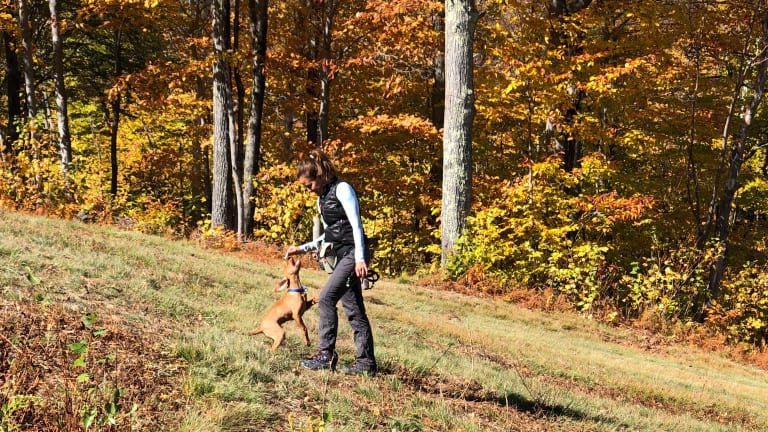 Publish date:
Top Picks for Cold Weather Hiking Gear
I've found awesome gear to keep me warm on the mountain and that's ready for whatever Vermont throws my way.
I've found awesome gear to keep me warm on the mountain and that's ready for whatever Vermont throws my way.
The one place that seems safe right now is the outdoors. That's where you'll find me each morning walking Kingsley and soaking in the changing seasons here in Vermont. Those seasons mean that I need awesome gear that is ready for whatever Vermont throws my way. Here are my current top picks for cold weather hiking gear.
Related: Top rated womens' hiking tights
Cold Weather Hiking Gear
Let's start with a great pair of pants. Waterproof jackets are pretty easy to find, a good pant that is rip resistant and water resistant. The Vector Pant from Rab ($124.95) has done miles and miles on the mountain with me. Nothing snags the fabric and it's easy to clean. The zip pockets help keep me organized. They are a little big on me, but that's ok, I plan to layer my ski tights underneath on the coldest days. I like that these come with a removable belt offers that I can adjust. I'm wearing the small. Get the Vector Pant on Backcountry here.
For warmer days, you'll find me in the Aphrodite 2.0 Pant from North Face ($69.95). This pair is light and offers moisture wicking. I like the drawstring waist and the longer inseam. There's also a mini security pocket with a zipper which is perfect for my car key. You can order a shorter inseam if you need it. I'm wearing the charcoal color in a small. Get the Aphrodite pant on Backcountry here.

Five Tips To For a Girl's First Leg Shave
Do you remember your first time shaving? Mine wasn't pretty. I snuck my dad's razor and shaved my legs dry. It wasn't pretty. Get your daughter ready for this rite of passage with the right tools and a quick education. We've got five tips to help you navigate your daughter's ...read more
Why You Should Add Wild Blueberries to Your Diet
Do your New Year's goals involve healthier eating? Adding more fruits and vegetables to your diet? Or even adding tasty new recipes to your repertoire? We've got five reasons for you to add wild blueberries to your diet. Our friends from the Wild Blueberry Association have ...read more
Why Moms are Loving This Blueberry Couscous Salad
It's blueberry picking time. And while most blueberry recipes revolve around baked goods, we've got something different to share. First, a few sentences singing the praises of this lovely fruit. Blueberries are high in antioxidants, improve memory function and reduce the effects ...read more
Don't forget the Socks
A good sock can make or break your hike. Cold toes are not joke. My favorites are the Darn Tough Gatewood Boot Sock with full cushion. My advice is to spend a little more on socks now and you won't regret it later. These come with a lifetime guarantee. 
MORE FITNESS FROM MOMTRENDS
PIN IT!
Use Pinterest to save your favorite parenting articles. Be sure to follow our Fitness and Health board here.
Momtrends was not paid for this post. Samples were sent for review purposes only.