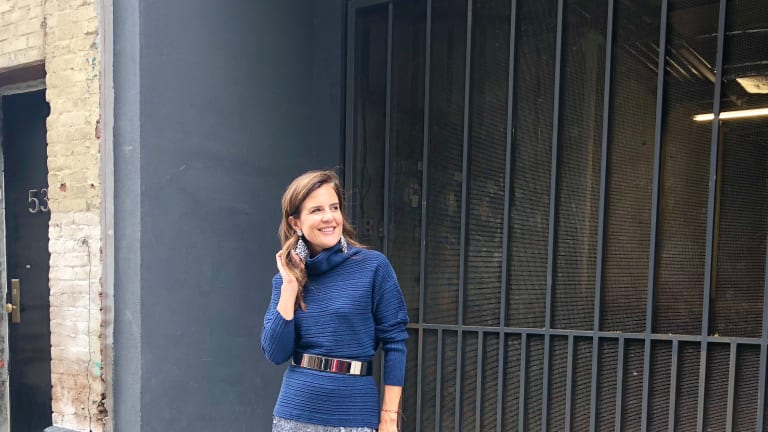 Tips for Styling Sequins
Nic + Zoe Fall Fashions
For a bit of style and sophistication, you can beat sequins. It's like an instant party every time you wear them. But for many women, sequins can be intimidating. That's why I'm sharing tips for styling sequins. You've got plenty of time to shop for your holiday looks, why not start playing around with a few new ideas.
Try moving beyond black
Yes, I love black for the simplicity. It's is easy to style. But this season, colored sequins are the sure way to stand out. I'm loving this new Twinkle Night Skirt from Nic + Zoe. The brand is new to me, I just got invited to their showroom last month.
This skirt has a slip-on waist and I like the below-the-knee length. Sequins are already giving off a sexy vibe, so there's no need for a super-short skirt. The steel color is a fun twist on dress-up for this holiday season.
Mix your textures
I could've paired this skirt with a silky top, but to make it more brunch ready, I toned it down by adding a steel blue sweater. Momtrends Tip: Adding a sweater also makes the sequins totally appropriate for an office soiree. Again, with sparkle, you don't need to show too much skin. This is the Fall Nights Top from Nic + Zoe pair it with sequins, your favorite denim or a pair of knit pants. It's a fun sweater to travel with.
Style Tip: Since the sweater is a bit oversized, I belted it with a fabulous Stella McCartney silver belt I've had for years. You can get a similar one on Asos here.
Add a bootie
Strappy heels are one way to go, but this season booties go with everything. Plus, they are more comfortable than stilettos. A black bootie is just about all you need for holiday dressing.
My booties are a few seasons old. But this pair from Stuart Weitzman is a pretty close match. You can't go wrong investing is a suede bootie this holiday.
Tips for Styling Sequins
These are my best tips for styling sequins. Are you ready to take this shiny trend on?  
MORE FASHION TIPS FOR MOMS
PIN IT!
Use Pinterest to save your favorite fashion posts. Be sure to follow our Fashion File Pinterest board here.
This Tips for Styling Sequins post is not sponsored.