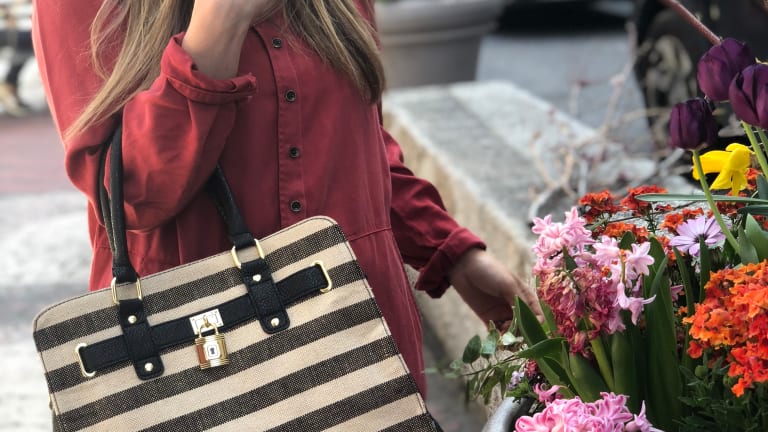 Publish date:
Time and Tru: Classic Staples for Your Closet
I recently took a trip to Walmart to get a bicycle pump. I walked in, and stopped right in my tracks. The Time and Tru fashion collection was front and center--and I immediately knew I was going to walk out with more than just some accessories from the sporting goods department. I had seen some commercials and ads for the new fashion-forward women's line--and, yes, some of the piece looked nice, but I didn't think I'd want to shop for, well, everything from slacks to blouses to shoes.
Apparently, I'm not the only one who's taken with Walmart's newest and most stylish endeavor. Many of the trendy pieces are out of stock. But with more pieces coming into stores and online daily, there are lots of fabulous (and super affordable) finds coming to a real or virtual shopping cart near you!
One of my favorite looks is this shirt dress. While the forecast is getting a little warm for this piece, it comes in handy on unseasonably chilly mornings. It'll also be great for the fall with boots! (That color screams autumn.) Oh, and that chic bag? It's Time and Tru too!
Of course, casual tee-shirts and blouses are spring and summertime must-haves in my wardrobe. Time and Tru's assortment of blouses lends well to the 9 to 5 and beyond lifestyle. They can be dressed up for work, rocked for happy hour, or worn for school pick-up, drop-off, and everything in between. 

5 Pretty Ways To Organize Your Jewelry
I admit - I'm guilt. Despite my best efforts, my "jewelry drawer" has become a tangled mess of necklaces, bracelets and earrings. This cluttered collection not only makes it hard to see what I have, but difficult to untangle the pieces I do want to wear! This summer, I'm ...read more
This Year's Coolest Jumbo Pool Floats
Pool season is almost here! I can't wait to relax, read a book, and sip a cocktail while lazily drifting in an oversized float. (Just kidding, I have two toddlers--but a swim mama can dream, right?). If you've got a staycation planned, check out this year's coolest jumbo pool ...read more
Crystal Clear and Pristine: Pool-Cleaning Tips
Tropical Storm Isaiah gave us quite the midsummer surprise here in the suburbs of New York City. We just got our power back on after a whole week of darkness! With trees down, debris everywhere, and lots of uncertainty, one thing we forgot to check on: our above ground Intex ...read more
I love the ruffle sleeve on this striped tee-shirt. It adds a little bit of whimsy and flair. Paired with boyfriend jeans and a chambray blazer, it's a smart option for the office, but add a statement necklace and it's great for after hours. 
Meanwhile, my colleague Brooke looks classic and stylish in this neutral-hued blouse with an asymmetrical ruffle front.
These are just a few of the polished, professional, and pretty looks from Time and Tru. Here a few a few more of our current in-stock favorites! Happy shopping!
This is not a sponsored post. We were given samples to review.