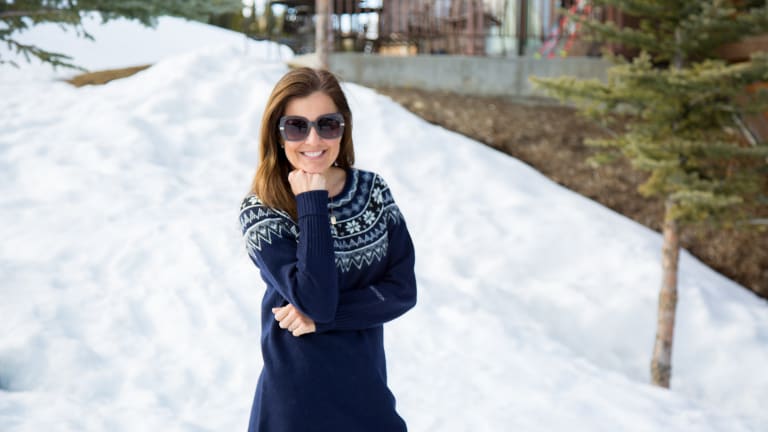 This Will Be The Season of Cozy Chic Fashions
Apres Anyone? Skhoop knits are perfect for any winter night.
I don't know about you, but I have trouble resisting the holiday sales. Now that it's cold in my neck of the woods, all I want to wear are yummy sweaters and leggings. That's what I'm shopping for right now. And since this will be the season of cozy chic fashions, I thought I would talk about one of my favorite winter looks, a tunic sweater from Skhoop.
Enter SkiMom at checkout to receive 15% off your order at skhoop.us or skhoop.ca Expires April 1, 2020.
2019-2020 Vermont Winter Ski Guide
Why sweaters? This year we are dedicating out ski coverage to all things Vermont. From fashion to food to snowy fun, the Green Mountain State is our inspiration.
Apres Anyone?
Right now it's snowing in NYC. And this weekend it was snowing in Vermont. My outfits need to be keep me warm. I'm in boots all the time, but that doesn't mean I can't pull off a cute outfit. 
Skhoop is a fun brand that embraces the outdoors lifestyle. I've got quite a few pieces from this Alaskan-based company. You can check out this post about the cool snow skirts they make. 
What I love about all that Skhoop makes is that they're all distinctly different, so adding pieces from Skhoop will keep me look cozy, but not like I didn't make an effort.
Skhoop knits are perfect for any winter night
I'm wearing the The Celine Tunic ($159 USD/$199 CAD) from Skhoop. 
Inspired by tradition-rich Nordic patterns, the Celine Tunic is a charmer. Combine this long, warm and comfy sweater with your favorite tights and you'll take your apres up a notch.
While Vermont may not be as flashy as Aspen or St.Moritz, they know how to enjoy apres ski. Instead of champagne, they'll enjoy a Sip of Sunshine by Lawsons. However you enjoy your evenings, this stylish pick from SKHOOP is perfect. If you shop, don't forget your ski moms discount!
MORE SKI FEATURES FROM MOMTRENDS
PIN IT!
Use pinterest to save your favorite family travel features. Be sure to follow our Ski Moms Pinterest Board.
This This Year Will Be The Season of Cozy Chic Fashions feature is not sponsored.