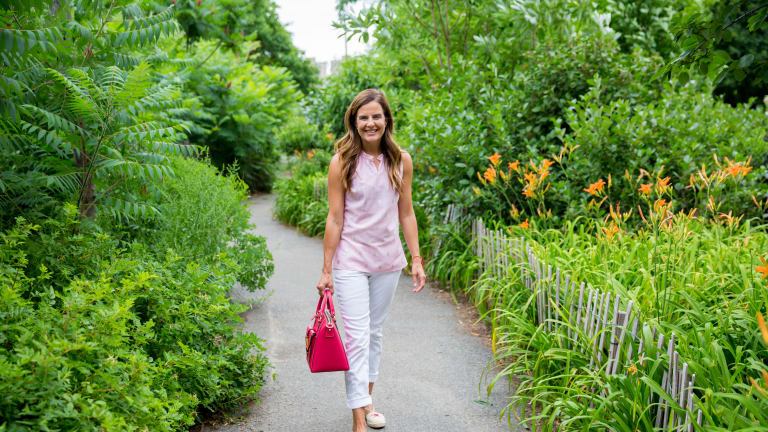 Think Pink for Summer Outfits
Trying on some classic brands
There's a heat index warning in NYC for most of this week. It's too hot to wear anything complicated. When I'm getting dressed in the morning I'm reaching for classics. This week I say, "think pink for summer outfits." A touch of pink with a mostly white outfit is perfect for the hottest days of the year. And I've tapped into two brands that are timeless - Talbots and Dooney & Bourke. Nothing is sponsored, I am just fortunate that brands like to send me clothes and bags to experiment with. 
Think Pink for Summer Handbags
I admit, I haven't thought about Dooney & Bourke bags for years. In the 90's they were pretty trendy as the preppy movement took a stronghold out East and in the South. The brand was started in 1975 in Norwalk, CT. The brand is more global in scope now, but they've stayed true to their roots.
Most of the bags are leather with loads of stitching detail. I'm sporting the Emerson Naomi Satchel in bright pink. It's meant to be an investment bag that will get better with time. And I think pink is a great investment color. It's always cheerful and helps you stand out in a crowd of black.
I love the structure of the bag and the details. What do you think? Are you a brand fan?
Think Pink for Summer Style
I wear a ton of sleeveless tops in summer. I find tank tops really easy to style and I like my strong arms (thank you yoga and pilates). This Cotton Keyhole Top in with a pink stripe is super light. This is what I want to wear on the hottest summer days.
Talbots designed this with a subtle ruffle trim accent and a touch of metallic. It looks great untucked over white jeans or if you are in an office setting, layer it under a white blazer. It's also a great piece for travel.
Elephant Espadrilles from Talbots
Summer is the time to have a little fun with your wardrobe and these  Ivy elephant espadrilles from Talbots are definitely fun. It's a French style that is a summer staple. The espadrille can be worn with sundresses, shorts and distressed denim. These slip ons are comfortable and versatile...plus ELEPHANTS!
Pin it and Wear it!
Use pinterest to plan your outfits and to help organize your wardrobe.
This Think Pink for Summer Outfits feature is not sponsored. There are affiliate links in this story. Photos by Suzanne Cohen Photography.