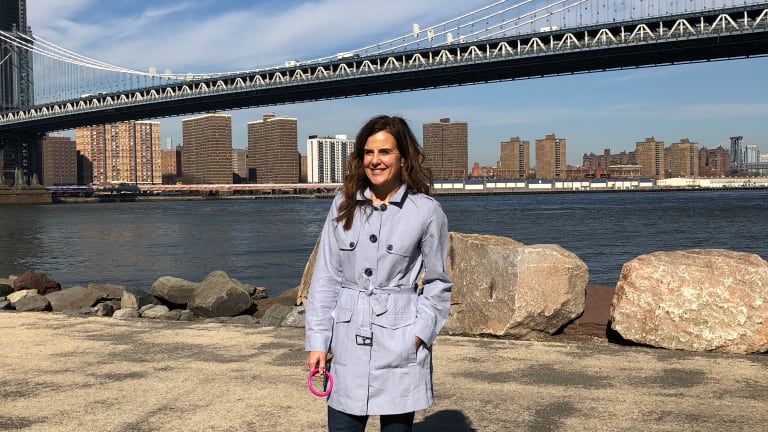 Publish date:
The Ultimate Spring Trench
Easy Style for Busy Women
Easy Style for Busy Women
I've been writing about cabi clothes for years. They are all about designing wearable fashion that is sold by an amazing group of stylists that have mastered the art of the in-home shopping experience. This season when I looked at the spring 2018 line, I was immediately drawn to the ultimate spring trench. They call it the Tanner Trench, I call it essential.
Cabi Tanner Trench
Spring is fickle in NYC. The weather can go from 65 and sunny to 45 and raining in a flash. Smart NYC women are always prepared with the right outerwear and layers. This super-soft cotton blend Tanner Trench is ideal for travel - it weighs next to nothing, yet goes with everything.
When we had some springlike weather, I took the trench to the Brooklyn waterfront to walk my friends Bruce and Mia (they are borrowed). I love how the jacket moves and the length is perfect. Any longer and it gets a little fussy! And I would be remiss to neglect the back details, this coat has it all!

5 Pretty Ways To Organize Your Jewelry
I admit - I'm guilt. Despite my best efforts, my "jewelry drawer" has become a tangled mess of necklaces, bracelets and earrings. This cluttered collection not only makes it hard to see what I have, but difficult to untangle the pieces I do want to wear! This summer, I'm ...read more
This Year's Coolest Jumbo Pool Floats
Pool season is almost here! I can't wait to relax, read a book, and sip a cocktail while lazily drifting in an oversized float. (Just kidding, I have two toddlers--but a swim mama can dream, right?). If you've got a staycation planned, check out this year's coolest jumbo pool ...read more
Crystal Clear and Pristine: Pool-Cleaning Tips
Tropical Storm Isaiah gave us quite the midsummer surprise here in the suburbs of New York City. We just got our power back on after a whole week of darkness! With trees down, debris everywhere, and lots of uncertainty, one thing we forgot to check on: our above ground Intex ...read more
How to Style the Ultimate Spring Trench
It's pretty simple to style this trench. Just grab it and go! From jeans to skirts this piece is so easy. I wore it with last season's cabi denim and a new top called the Poet Blouse. This romantic top will be seeing a lot more action once the weather warms up.
I paired it with the Birkenstock's Sarnia Slouch Bootie that I found on Shoes.com. We all love Birkenstocks because of the cork insole -these boots feature that! The special insole supports the arches of the foot.
Pin it and Wear it!
I love using Pinterest for outfit inspiration. If you like this outfit, pin it and use it to style your spring trench coat looks.
This The Ultimate Spring Trench feature is not a sponsored post. Cabi sent samples over for me to style this spring; same for Shoes.com. Look for a paid campaign from Shoes.com coming up later this spring!