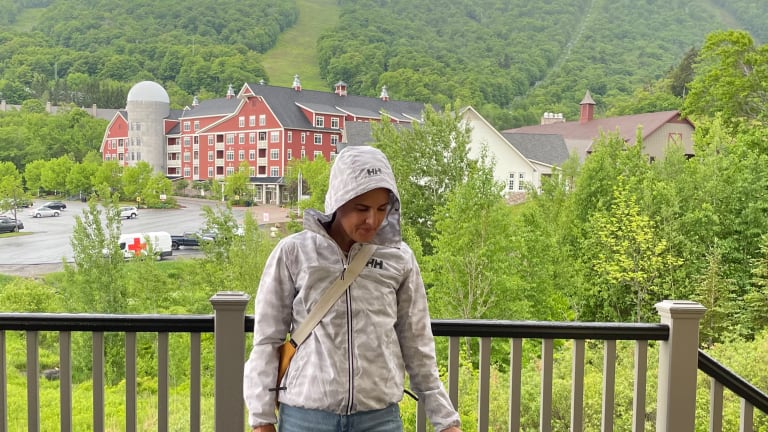 The perfect rain jacket for your summer adventures
We found an essential lightweight rain jacket for those sudden rain showers and all your travels.
The local forecast still calls for plenty of showers, Mother Nature is embracing her power to keep things growing. I'm all for exploring in the rain and I've got the perfect rain jacket for your summer adventures. The Helly Hansen Belfast jacket is my go-to pick for hitting the trails in all four seasons of the year.
Related: The cutest umbrellas for spring rain showers
My furry friend does not look at the weather before he hits the trails, but I do. This lightweight jacket looks like it's pretty simple, and it is, but it's also loaded with design elements that make it my trusty favorite for in between weather. 
The perfect rain jacket 
Since 1877, Helly Hansen has been designed and developed in Norway. It's a country that believes in making things to last and that weather isn't a thing to fear, it's a challenge to be solved. My family traveled to Norway a few years ago and I admired how hearty the families were there. They are ALWAYS up for for a hike. Helly Hansen embodies the spirit of the nation.
I'm wearing the Belfast II Packable Jacket, a perfect rain jacket. It's waterproof, breathable and guaranteed by Helly Hansen to last. The Helly Tech fabric is made to keep you warm and dry. The seams are fully taped and welded making them ideal for moms like me who are always on the move. 
Features I Love About the Belfast Jacket
Not only does the jacket keep the rain out, it's also extremely lightweight. You can roll up the entire jacket and stash it into the jacket's pocket for storage. For hikes and workouts, the jacket offers moms mechanical ventilation at the back yoke, I don't ever get overheated when I'm out in the rain. It's a great piece for my dog walks, rainy jogs and everyday errands. 
The Belfast jacket ($150) comes in three colors and five sizes. Get it on the Helly Hansen website. 
MORE FASHION TIPS FOR MOMS
PIN IT!
Use Pinterest to save your favorite fashion posts. Be sure to follow our Spring Fashion Trends board here.
This is not a sponsored post, and it contains affiliate links. All opinions are our own.