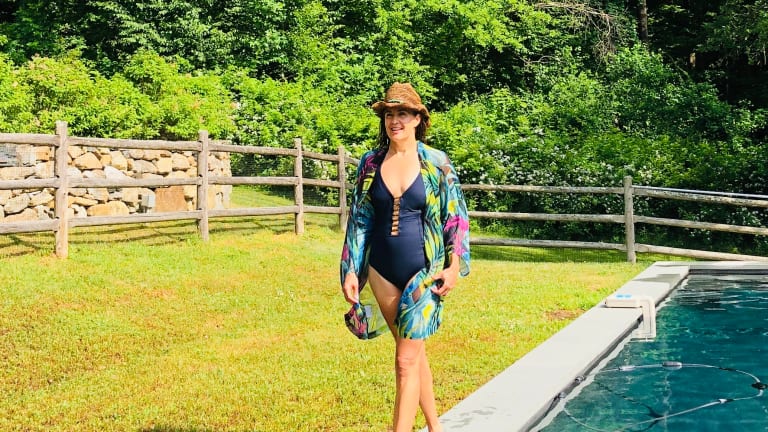 Gorgeous Swimsuits for Women Over 40
Miraclesuit makes some of my favorite suits and I adore the slightly more sassy, Amoressa suits from the brand.
It's getting to be that point in the season - the hunt for the perfect swimsuit is on. Maybe there isn't a perfect one, but today there are so many styles that are incredible for a variety of body types while also being stylish and comfortable. Miraclesuit makes some of my favorite suits and I adore the slightly more sassy, Amoressa suits from the brand. This brand is a great resource for gorgeous swimsuits for women over 40.
Related: The ten best flip flops for summer
This is my last summer of being in my 40's. My milestone birthday is on the horizon. My style is evolving (as it should) and I'm embracing one-piece swimsuits more and more. 
I don't think age should dictate fashion choices, but age has made me more discerning about what works for my body. Flattering one-piece suits are a welcome addition to my summer. While you could be 20, 30 or 60 to wear this suit, my point is, it's great knowing that there are amazing options for you no matter your age. It's all about how you feel!
Finding a Perfect Suit
I've been a Miraclesuit fan for years, I love the slimming swimwear brand. A few years ago, I was introduced to the companion line called Amoressa by Miraclesuit. The suits are a little sexier, trendier and more playful.  
The one-piece Amoressa Zenith suit is a favorite. It's got lots of structure and support, but it's also suit that makes me feel attractive. Like many of the pieces in the Amoressa line, this one has jewelry-like accents on the front of the suit. It's details like these gold bars that elevate the swimsuits. 
Get the Amoressa by Miraclesuit Zenith suit on the Miraclesuit site here. 
Adding a Great Cover-up
Since I'm never in the office anymore, I'm living by the pool. That means I am collecting cover-ups. I'm wearing the Amoressa by Miraclesuit Borneo Kimono Swim Cover-Up. This tropical cover-up has a subtle shimmer to it. The breezy style also looks great over a tank top and white jeans. It's a perfect item to travel with. 
Get the Borneo Kimono cover-up at Bloomingdales here.
MORE SUMMER STYLE FROM MOMTRENDS
PIN IT!
Use Pinterest to save your favorite fashion posts. Be sure to follow our Summer Style board here.
Momtrends was not paid for this post.