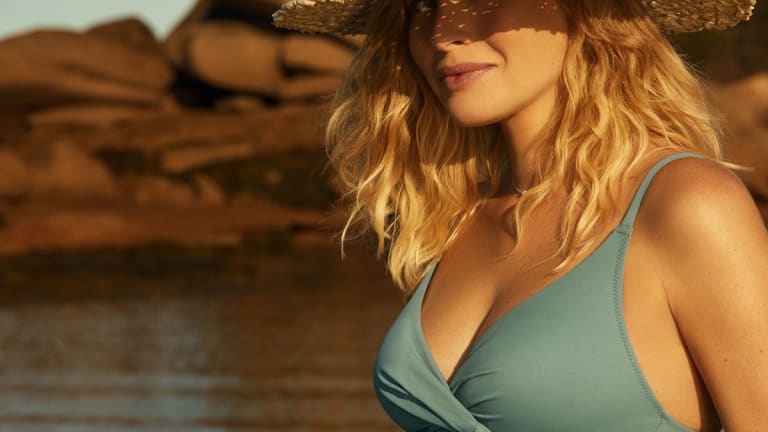 Momtrends MVP'S: The Best Maternity Swimwear
With spring and summer vacations coming up, it's a good time to look for this season's swimsuit, so we rounded up some of the best maternity swimwear picks out there!
One thing your body does when you're expecting is change. The changes your body goes through are beautiful of course, but they sure are different.
Thankfully, today's maternity clothing designers take care to dress a growing belly in a comfortable, flattering manner.
Maternity swimwear has come a long way baby! Gone are the tent-like designs and here to stay are swimsuits that make you look and feel incredible no matter what stage of your pregnancy you are in!
Swimsuit season should be fun, not stressful. Remember what an incredible thing your body is doing. It is growing an entire human being and deserves to be celebrated with a fabulous swimsuit! Just sayin'.
So, whether you want a one-piece, tankini, or, something in between, this Momtrends MVP's maternity swimwear edition should have you covered!
Do I need a maternity swimsuit?
If you want to be comfortable, you need a maternity swimsuit in my opinion. They are made to accommodate and support your tummy.
So, while there are probably some non-maternity swimsuits out there that would work beyond the first trimester, if you plan on being in a swimsuit more than once or twice this season, I say this is a time to splurge on a swimsuit that is designed for your pregnant body!
And there are even maternity swimsuits that work for the fourth trimester too. So, you know your investment will get some good use!
If you do decide to rock a bikini, for instance, that isn't a maternity design, try going up a size. But if you are taking my advice, and going the maternity route, get ready…I have some beautiful choices lined up!
The Fourth Trimester Maternity Swimsuit
I am a sucker for anything animal print and swimsuits are no exceptions! The cheetah print Savannah suit from Albion not only has a feisty print, but the wide straps are super supportive.
Your tummy isn't the only thing that grows. Haha! And it comes with that all-important ruching that is always an expecting person's best friend!
I love this swimsuit for every reason I already mentioned, but my favorite part is that it bounces back to a non-maternity shape. So, you can comfortably wear the Albion Savannah long after your baby arrives!
Albion The Savannah One-Piece Swimsuit
The Best Full-Coverage Maternity Swimsuit
If you live in a warm weather climate and are in your swimsuit, and thus, exposed to the sun a lot, you might want one with more coverage.
Lands' End makes maternity-friendly swimsuits that aren't specifically maternity but will work just the same. I did say I recommend maternity swimwear, but if you get this one for more everyday swimming in your pool, you might still want a fun and flirty suit and there are plenty of options in this list of top maternity swimwear picks too!
I love how this Lands' End modest tankini covers your shoulders and chest, two areas that get a lot of sun! And it has built-in cups to offer support to your chest too!
Lands' End Chlorine Resistant Short-Sleeve Modest Tankini
The Best V-Neck Maternity Swimsuit
This swimsuit fully falls into that fun and flirty category we talked about. The zebra print, the ruffled neckline, the deep v-neck. I love it all!
A Pea in the Pod knows maternity clothing and their swimsuits are just as fabulous as the rest of their clothing.
Not only is this A Pea in the Pod zebra print swimsuit just beautiful, but the adjustable tie back allows for yummy comfort too!
A Pea in the Pod Ruffled Zebra Print Maternity One-Piece Swimsuit
The Best Maternity Swimsuit with Bust Support
I was full chested before I had children. Pregnancy only gave me a larger bust, so support was a big feature I looked for in nursing bras AND swimwear.
The Cache Coer Manitoba maternity swimsuit comes with adjustable straps and cups so you can get the perfect fit for your bust.
I obviously approve of how supportive this bra is and I really love that you get both function AND style with this maternity swimsuit! From the flattering wrap style to the lovely tassel trim, and the perfectly pink color, the Manitoba has everything you could want or need in maternity swimwear!
Cache Coer Manitoba Maternity Swimsuit
The Best Active Maternity Swimsuit
If a sporty style is more your vibe, Seraphine has the maternity swimsuit for you! It's perfect for active parents to be. If you like to start your day swimming some laps, for instance, this suit is definitely for you!
It also has a fun neon print along the sides and a cut-out back, so it's not all business and no style!
I love that you can really move in this Seraphine suit without giving a second thought to it hiking up or exposing parts you don't want to be exposed. The racer back offers such a secure fit!
Seraphine Racer Back Maternity Swimsuit
The Best Adjustable Maternity Swimsuit
Don't you love staples in your wardrobe that you can style in different ways? The same idea applies to this gorgeous Hatch swimsuit. You can adjust it to create two different necklines!
Not only does it have ruffle detailing, but it also has adjustable and convertible straps. So you can criss-cross them or tie them into a halter.
Personally, I am partial to this vibrant tropical punch pink hue, but the Antiqua Maillot also comes in black which gives you so many coverup color combo options. Haha!
The Best Maternity Tankini
As I mentioned earlier, you can get a regular bikini in a larger size, but if you want to go the tankini route, you can't beat this one from Senita.
Not only is the print lovely, but it features a design meant to give an expecting person all the comfort they need. There is a shelf bra with removable cups to support your chest and a back that ties to adjust to your body.
I really like that with a tankini like the Senita Maternity Tankini you can wear it however you're comfortable. If you want more of a bikini look, you can hike up the top a bit. But if you want more coverage you can keep it pulled down. And it looks fabulous no matter how you wear it!
You may be expecting, but you can still feel sexy and a sexy maternity swimsuit like this one from PinkBlush can definitely help in that department.
The keyhole cutout at the bust shows some skin without being too revealing and the cutout in the back does the same. Plus, the dark green hue would be flattering to so many skin tones!
This PinkBlush swimsuit strikes the perfect balance between sexiness and practicality. When you're expecting you can't throw away support, but as you can see you can get it with a side of sass!
PinkBlush Back Tie Cut Out Maternity Swimsuit
Hopefully this Momtrends MVP's list gives you a good start in your maternity swimsuit finding journey! And now that you have some great options in that department, why not check out some of our other baby/maternity gear recommendations?
And don't forget to stay tuned for our next baby gear Momtrends MVPs list…
More Picks for Moms
For Even More of Our Favorite Momtrends MVP's Winners, Follow the Links Below:
Pin It!
Save your fave baby gear and ideas on Pinterest and follow along with our Gear for baby and kid board!
Momtrends MVP's is a non-sponsored series. Brands must meet our strict standards to be included. When naming winners we take several factors into account, including expense, convenience, and style.
We make our picks annually based on editors' research. In some instances, we may request and receive samples so that we can more thoroughly assess products. Our opinions are our own, and our goal is to help our community of moms make more informed decisions on everything from baby gear to beauty products to vacation destinations and more. We scour the abundant options and painstakingly hand-pick our favorites, so you don't have to. Our hope is that our most valuable players become your most valued purchases.