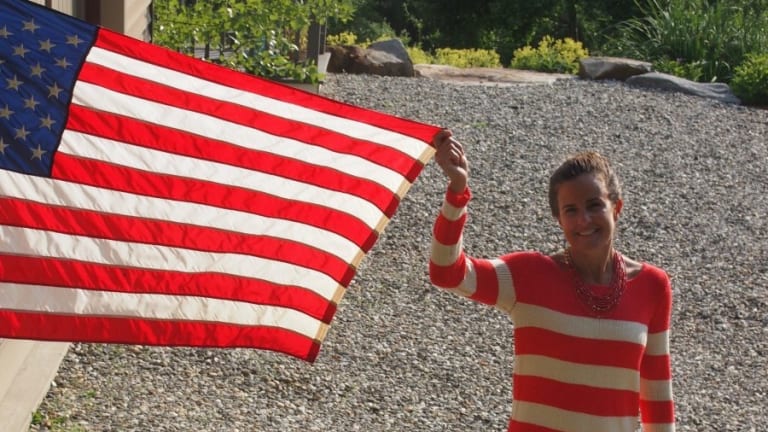 Summer Fashion Inspiration Fourth of July Outfit
Time for a 4th of July fashion report. Once again, these photos have been shot by my 7 year old and for the first time, a photo by my 5 year old (the main photo above). When I told them the theme of the shoot they were so excited. It's the perfect time to wear stripes and shorts!
It's been super hot out East. And so very humid. While I love dresses, I think shorts are just right for the holiday--since it tends to be a family affair. With a big picnic planned, I want to be able to play with the kids. The freedom of shorts--especially this stretch pique pair is perfect for the holiday. I paired the shorts (new) with a sweater (old--from TJMaxx, no longer has a label!) and a coral necklace for a patriotic outfit.
Momtrends 4th of July Outfits
Don't think I am crazy for putting a sweater on in July! It has a really open weave and check out the back...breezy!
These wedge sandals are from last year (Tory Burch) and I can always find another reason to bring them out to share!
The bag was from my trip to Italy this year. Do you know the brand Piquadro? They mostly make business bags that are popular in Europe. They are trying to expand to the US. I'm doing my part!
A note about the hair. I've been swimming a lot (training for a triathlon in July). My hair is wet all the time. I've been using this summer hair recover program to protect it from sun and chemicals and it feels pretty good, but it's so not worth the effort to blow it out when it's just going to get wet again in a few hours. I've been mastering the quick braided bun. In fact, I often leave in a little conditioner and whip it up into a bun. Lazy? Maybe, but perfect for summer!
Now what about you? Do you have a favorite beach look? I hope you'll share what you've been wearing.
MORE 4TH OF JULY IDEAS FROM MOMTRENDS
PIN IT!
Use Pinterest to save your favorite ideas for summer fun. Be sure to follow our 4th-of-July board for more inspiration.
Momtrends was not paid for this post. As always, we get a lot of free clothing to style. But no one paid me to put any of this together.