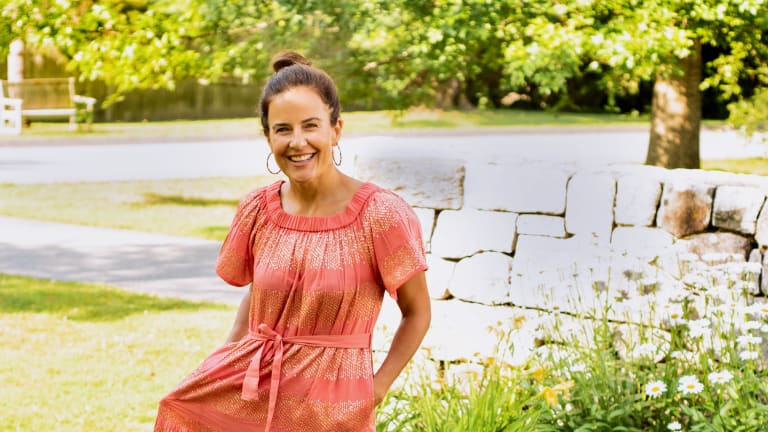 Summer Dresses You Can't Give Up
Oliphant dresses are a sweet part of summer I can't let go.
This summer was amazing. We traveled. We stayed home. We sat by the pool. We read books. We made so, so many memories. Part of me is excited for school to start on Wednesday, and part of me is having trouble letting go. While I do love fall and sweater weather, there are certain summer dresses you can't give up.
This summer I found Oliphant boutique. It's a Litchfield County gem, and I'm still smitten with this Connecticut designer. The dresses I found are perfect. They are versatile, pretty and ready for travel. This particular sundress can be worn on the shoulder or off-the-shoulder. I love clever design touches like this.
Check out the Details
Designer Cara Hotchkiss finds the most beautiful fabrics. This one has tiny gold sequins embellishing the soft coral cotton.
As I said, there's been a lot of pool time this summer. Throwing my hair up in a top knot has a been a good solution for the hottest days of summer. The earrings were picked up at the Manchester, VT outlets. The LOFT hoops were $5!
Now as for the dress, I'm not sure if it's still in stock. Since I found it in the boutique, I suggest you email or  contact oliphantdesign.com for more shopping details.
Best Summer Sandals
Since the dress has a nice bit of sparkle, I didn't want to add too much else to my outfit. I've been wearing these Earth Shoes sandals all summer. I think a touch of platform styling gives this look the perfect lift without being showy. This timelessly chic sandal seems to go with everything I own.
Shop the Chestnut Sandal at Zappos.
MORE SUMMER FASHION FUN ON MOMTRENDS
Stay chic with more inspiration from Oliphant.
PIN IT!
Use pinterest to save your favorite fashion finds.
This Summer Dresses You Can't Give Up feature is not sponsored. All images by Gabriel at GreatLightPhotography.com