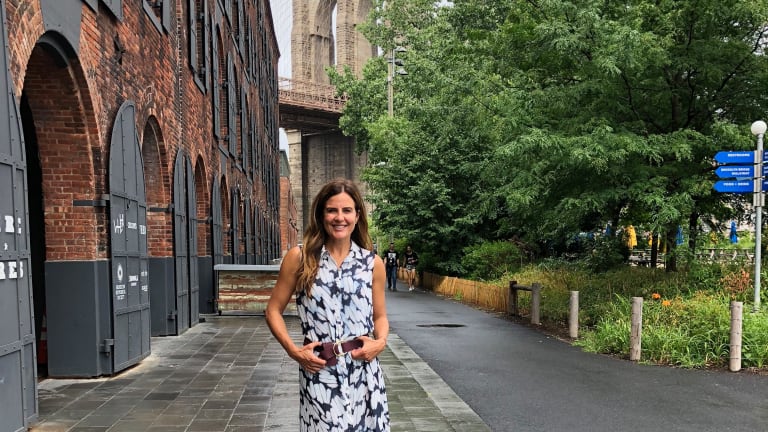 Summer Dress I Wear Time and Again
Add a long shirtdress to your closet
Now that summer is winding down, I'm pausing to reflect on the pieces I've worn time and again. I love recognizing what is working or me and sharing it with other moms. This cabi shirtdress has become a wardrobe staple. It's easy to style and is the summer dress I wear time and again.
Summer Dress I Wear Time and Again
Last week I gave a sneak peek at some of the fall pieces I selected from cabi. Today, as I savor the last days of summer break, I am showing you this long shirtdress to show you how my wardrobe works. 
I try new pieces all the time. Many of the trends just don't make the cut and I return the clothes or give them away. My closet is small and organized (I live in NYC and REALLY don't like clutter, you can visit my closet in this post).
Tips for taming closet clutter
Ruthlessly edit your clothing. At least twice a year I dump EVERYTHING out of my closet in the Marie Kondo method. I decide whether each piece is serving it's purpose and bringing me joy and happiness when I slip it on. Then I donate clothes to charity that aren't working for me. Everyone wins in this scenario.
If you need a little push in this direction, make a date with a girlfriend and do it on the same day and then reward yourselves with a fun night in (might I suggest you watch Book Club - a fun girls' night in movie?)
Where to Wear this Summer Dress
I've worn this to countless work events, like the cabi 2018 scoop party in NYC. I paired it with high heels and more dramatic earrings for that event.
I've worn it on date night with Mr. Momtrends and most recently for a video project I'm working on with NY529. This is the sign of a dress that WORKS. I reach for it again and again. 
Why this Summer Dress Works for Me
The sleeveless style shows off my arms. I've done a lot of push-ups this summer prepping for the Tough Mudder 5K race. They've paid off, I love the toned look and think many 40+ women have great arms.
I like the length. Summer dresses tend to be maxis or minis. This dress doesn't drag on the ground nor does it ride up too high. The material is great for travel and it's easy to belt.
Now, here's the bad part. It's not available anymore on the cabi website. You can reach out to your cabi stylist to see if they have inventory. But the key thing to note is you don't necessarily need this dress, you need a dress that works for you like this one works for me. 
Pin it 
Use pinterest to get fashion inspiration.
This Summer Dress I Wear Time and Again is not sponsored.