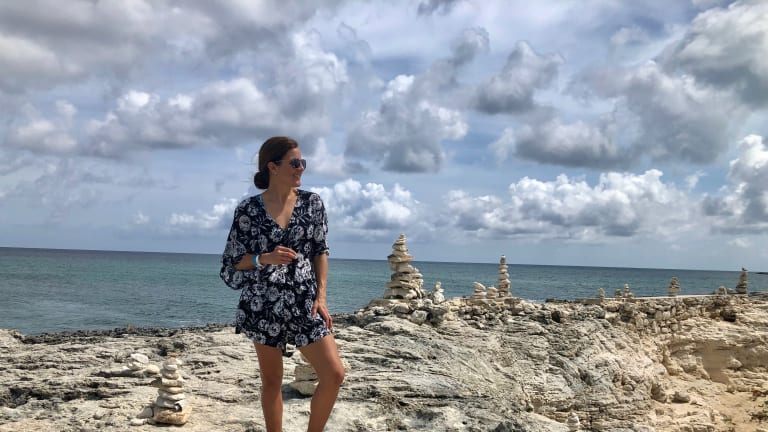 Stylish Swimwear for Moms
Summer Style Beach and Pool from Vera Bradley
Are you heading to the beach? Well, if you are, I will be the first one to tell you to jump in and have fun with the kids. With the right swimsuit you'll have the confidence to have fun in the sun. When it comes to stylish swimwear for moms, I'm always on the hunt for the latest trends. This season, I'm trying on Vera Bradley.
Summer Style Beach and Pool from Vera Bradley
Whether you're at the beach or lounging poolside, with this Vera Bradley has gorgeous collections. I love the bold florals and the tasteful cuts. For this trip, I picked a romper and a coordinating one-piece from Vera Bradley. They've been in the business of swimwear for a few years now and I love how they are bringing the aesthetic of the brand to the sea.
Perfect Beach Cover Up
Let's start with the romper. The Amelia beach cover-up is very comfortable. This romper is perfect for travel and I adore the toile-inspired Monotone Meadow print. 
Step into the romper and then slip it over your shoulders and tie the tassels for coverage. It's very lightweight and dries quickly. I have a lot of flowing cover-ups already, this short style is a nice addition to my beach wardrobe. 
Shop the Amelia Romper on Vera Bradley here
Stylish One-Piece Swimsuit for Moms
Now let's talk about the reversible suit. The Penelope Plunge-Neck Reversible Halter One Piece is amazing. Yes, I love a good bikini, but on active vacations like this one, I need a one piece to get the job done in style.
The reversible suit is pink on one side (the print is called Pink Meadow) and black in the Monotone Meadow on the other. The black side matches the romper perfectly. Making it extremely versatile for travel.
Here's a look at the backside. I love that it covers my bum and stays put. And if you've got a long torso as I do, this suit is idea. The halter suit doesn't pinch or ride up. FYI: I'm wearing size medium.
Shop the Penelope suit on Vera Bradley's site here 
Perfect Suit for Active Vacations
The Penelope is perfect for a vacation at Atlantis or Baha Mar. In Atlantis I was on a ton of water rides, the last thing I needed to worry about was my suit staying up. I wanted to have fun. In Baha Mar, the action is all at the ocean. This suit is ideal for a day of play.
Pin it! 
Use pinterest to save your favorite beach fashions and inspire your style.
This Stylish Swimwear for Moms feature is not sponsored. It does contain Vera Bradley Affiliate links.