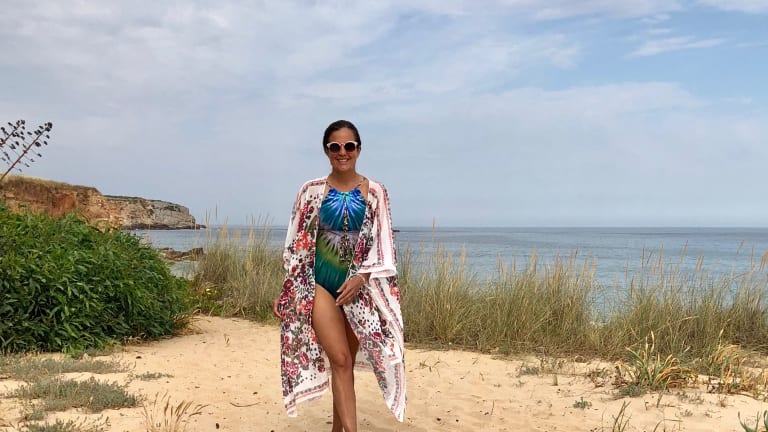 Stylish One Piece Swimsuit to Flatter
Take your summer style to the next level with Eco Swim
Ah vacation. The time were we forget about our work lives and to-do lists and become the family we really want to be. For our beach vacations, that means time in the water. I won't spend time stressing about how I look in a swimsuit (and I think I look pretty good!). I want to spend time with my girls building castles, jumping into the cold surf and playing in the pool. For all these reasons, I need a stylish one piece swimsuit to flatter my forty-something mom figure.
Sure, I do still wear bikinis (I featured this one from Vera Bradley laster week - the same company Swim USA makes both suits). They certainly have their time and place, but a one piece swimsuit is an essential part of any woman's summer wardrobe. Don't be fooled, a one piece can be just as sexy as a bikini. It's all about finding the right print and the right style.
Styling a One-Piece Swimsuit to Flatter Details
I'm wearing the Jungle Revival One-Piece Printed Swimsuit (it's on sale right now at Lord & Taylor for $56). I styled it with rose gold vionic sandals and this fun kimono coverup I found on Amazon.
I love a long flowing cover up with a one piece suit. I love the lines and how it elongates my body. A flowing cover up like this one is perfect for walking to and from the beach or pool. You can also check out this one from Amoressa. 
Stylish One-Piece Swimsuit to Flatter Details
This Eco Swim suit is from the Jungle Revival Collection. It has printed lace-up detail on the front and the back as well as adjustable shoulder straps. Sizing tip: I have a long torso, and this suit fit me well when I sized up to an 8.
Here's the back of the suit. I love the lace-up details on this suit. It's stylish, but also perfect for jumping into the ocean.
Here's a fun note about the brand: Eco Swim uses recycled nylons in their products and aims for style that is achieved in an eco-friendly way. This is a sustainably-minded brand - I love this trend. Read more about the brand and their partnerships here http://www.swimusa.com/eco-swim/
Pin it and Wear It!
Use pinterest to plan your shopping and to plan your outfits.
This Stylish One-Piece Swimsuit to Flatter is not a sponsored post. Often samples are received so I can share outfit ideas without going broke. There are affiliate links in this post.