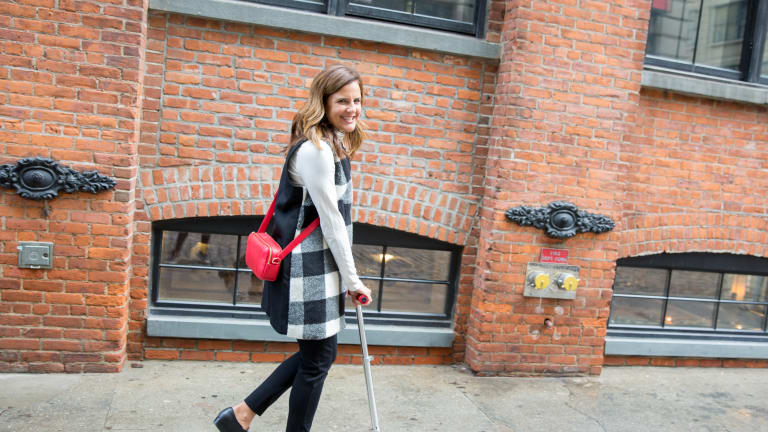 A few weeks ago I got to work on a fun campaign with Talbots.  The outfit got such a good response on Instagram that I thought I would help break down the look.
Talbots contacted me to work on a campaign called #BecauseImaLady; it was all about turning ladylike behavior on its heels. Well, I do consider myself a lady. I like girly things like lip gloss, fancy nails and getting my hair done. But I also am in touch with my sporty side.
I guess I love that we all have permission to embrace all the parts of us. We can be a killer in business and still love to play dress up (now if men can just recognize this!)
I loved the freedom the team at Talbots gave me for the Instagram campaign. They didn't dictate anything. I got to pick the outfit and the setting, and I also got to work with one one my favorite photographers, Suzanne Cohen from @gothamlove.
What I'm wearing:
Let's talk about what I picked. I started with a great check vest (I think this may only be available in store, I can't find the link online). I paired it with a cream turtleneck and these great Ponte Button Skinny Ankle Leggings from Talbots.
I've now worn this outfit TONS. It's incredibly comfortable and cozy and looks really pulled together. And I'm going to say it: If you put on a couple holiday pounds, this outfit can hide the extra helping of pumpkin pie.
About the Shoes
The shoes are from Isola shoes. They are a few seasons old, which just illustrates how fabulous they are. They still looks so current. I don't think you need to hunt these down, what you need is a leopard flat that is currently in stock. Zappos had a few from Kate Spade that I adore. You can find a link here.
Your Thoughts Please
What do you think about this look? Would you wear it? Also, I'd love to know it you hate it when I post "old" things like these shoes. Here's the thing: I don't think you should have to replace your wardrobe every season, I want you to live more, shop less!
This is not a sponsored post. The paid campaign was the instagram post. This is something extra I'm sharing to help you get dressed in style.