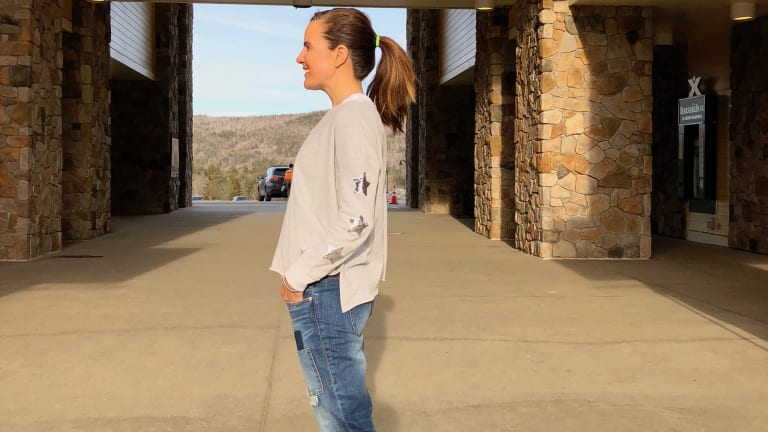 Style Treats for Spring
Fashion Finds with Silver Sparkles
As I write this, it is currently SNOWING. Yep, I'm a ski mom who loves winter. But right around April 1, I pack up all the ski gear and am 100% ready for spring and spring fashion. To get me past this wacky weather, I'm sharing some style treats for spring. It's all about silver things that sparkle! My daughter and I shot these images at Okemo mountain during our influencer weekend. It was 50 and sunny and I was full steam ahead towards spring!
Silver Sparkles from Alexys Ryan
First, let's talk about my sparkly silver accessories from Alexys Ryan. I absolutely love when women-owned brands reach out to me. I do my best to hunt down trends, but I can't find them all. Chloe, from their team, emailed me to see if I wanted to feature a few pieces.
The designers are sisters-in-law and mothers. They know how busy we all get with the roles we play and they also know we want to feel pretty and purposeful as we go about our days.
These easy accessories are meant to be WORN. I picked this PRACTICE bangle ($38); since I am a work in progress, I like to remind myself that it is OK to practice and try things. On the reverse side of the bangle, it says TRIAL & ERROR. If we don't try new things, we'll never improve. Try, see what works and then let it go if it doesn't work. That's a lot of great messaging in one pretty bangle.
I also selected this Friendship Necklace as a style treat for spring. It's a reminder to me to call friends and make sure I let the women I love know I am with them. The 18″chain has a 4″ extender and is embellished with a Swarovski crystal. It's a perfectly simple and elegant everyday piece. And the best part? It's only $28
Jewelry that empowers me is the best. I will be wearing these pieces and taking the messaging to heart!
Saturday Casual Style
For the rest of the outfit, it's all about Saturday casual style. The jeans are from cabi (click here to see more spring style from cabi) and called the Slim Boyfriend. I like all the patches and the super-relaxed fit. Roll these up and wear them with your favorite sneakers and tees.
As for the top, it might look like a basic gray sweatshirt, but how about these sparkly silver stars on the sleeves. I'm always looking for something EXTRA on my basics, to keep them from being boring. The top is from 525 America, a Brooklyn brand.
Speaking of not boring, I am loving the Easy Spirit pink sneakers I picked up for spring. You'll likely keep seeing these again and again!
Pin it and Wear it!
Let me know if you style any of these pieces. I always love to see what you are styling.
This Style Treats for Spring is not sponsored. Many brands send us items to feature.