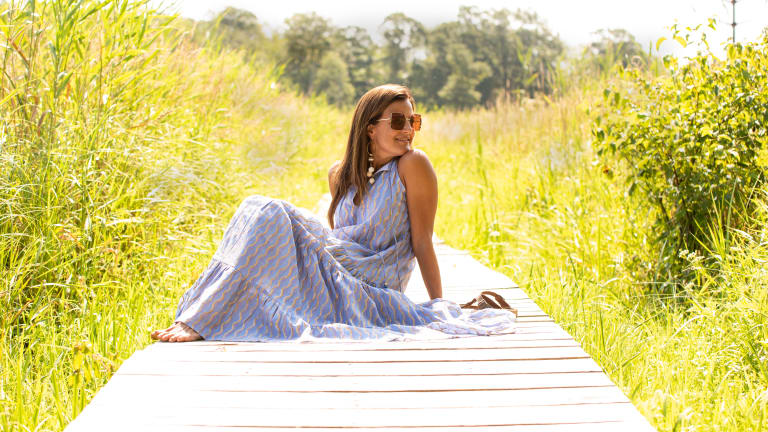 Staying Stylish in Soaring Temperatures
Stay cool in the heat with Oliphant designs; perfect for the hottest days of summer
The dog days of summer are here, and I know it. Putting clothing on is the LAST thing we want to do. It's easier to just jump in the pool or hide in the A/C in your PJs, but life goes on even when the thermometer rises. Staying stylish in soaring temperatures isn't easy, but it's possible. 
Staying Stylish in Soaring Temperatures
Cara started her brand a decade ago. Back then she focused on jewelry, when she opened Oliphant, a stylish boutique in Litchfield County, Connecticut, she started to fall in love with fabrics and decided to start designing dresses that she'd want to wear.
Well, it turns out that there's a big audience for these gorgeous dresses. The fabrics are whisper soft, and the only thing that won't make you spontaneously combust on the hottest days of summer.
I'm wearing the Long Tiered Tassel Dress in Tulum blue ($178). (Sizing details: I'm wearing a small and am 5'6" and 125lbs). There's a hint of shimmer to the gold that weaves through the pattern; it's a print that flatters many complexions and looks fabulous with sun-kissed skin. 
Cara uses this silhouette often. It's flattering to a lot of different body shapes. I love the v-neck and the tassels that gently skim the front of the dress. It's perfect for your beach vacations or any summer parties. I wore a similar one to a summer dinner party we hosted last weekend and the dress garnered many compliments.
Visit Oliphant here to shop the collection
Accessorizing in the Hottest Weather
When it comes to staying stylish in soaring temperatures, the key is to keep the accessories simple. To start, I'm wearing my 80's inspired sunnies from SEE eyewear. 
I'm not wearing much jewelry. In the summer, I keep that pretty simple. This earring is also from Oliphant. While it's quite long, it's lightweight and I adore the mix of materials. 
Visit Oliphant here to shop the full jewelry collection.
Plan a Visit to Oliphant
If you find yourself in Litchfield, CT, you'll definitely need to pop into the Oliphant store. 29 West St, Litchfield, CT 06759. Phone: (860) 567-8199
What shoes should I wear?
Now you could certainly style this dress with a cute wedge heel, and if I were goijng to a dressy affair I might, but for day to day life, you can't beat the Birkenstock Gizeh sandal. 
As a late convert to Birks, I feel like I need to keep singing the praises of these hippie shoes for any other holdouts. Once you go Birk, you never look back. Shop for your Birks on Zappos for free shipping. 
More Summer Fashion Inspiration
This warm weather isn't going anywhere. Check out these fashion articles to inspire your summer style.
Pin it! 
Use Pinterest to save your favorite fashion finds. Be sure to follow my Summer style board here.
This Staying Stylish in Soaring Temperatures feature is not sponsored. All images by Gabriel at GreatLightPhotography.com