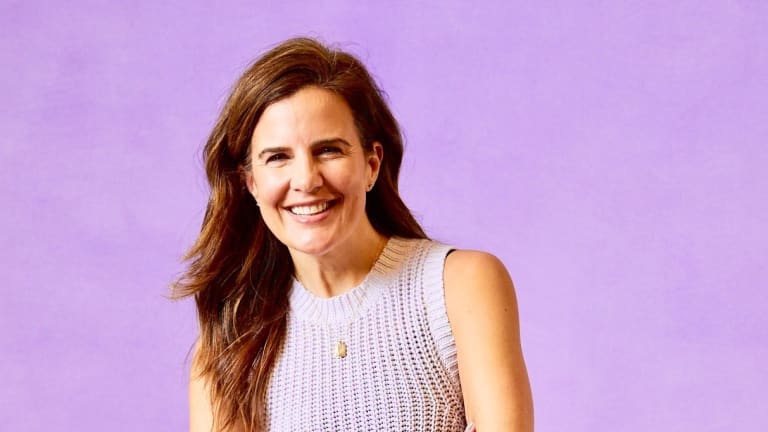 Spring Outfit Inspiration
525 America Knits for easy style
It's the first day of April and I think spring may finally be on the way. The weather report says there are 60 degree days coming to NYC and that means I might switch out my closet from cashmere and leather to lighter knits. I recently paid a visit to the 525 America showroom in the NYC Fashion district to get some spring outfit inspiration.
Spring Outfit Inspiration the Perfect Knit
I'm wearing the Chunky Cotton Shaker High Side Slit Sweater Tank from 525 America.  
This easy knit sweater has a high side slit. 525 is a brand that started in Brooklyn and makes the best knits. This tank shows off my arms and I love the way it skims my hips. 
Even those the knit is a classic chunky cotton, the sweater doesn't add any bulk thanks to the clean lines.  There are bits of other colors in the weave, but it's mostly a soft purple. 
How to wear it
Wear it alone and show a peak of skin or layer a light tank underneath for more coverage. 
Shop the sweater here on the 525 America website.
Accessorize that!
For spring, I add in a lot of scarves and delicate necklaces. It's a reaction to wearing all the heavy accessories from winter. For this look, I added my favorite Tiny Tags necklace. I'm wearing the Mini Dog Charm Necklace. I picked the 14k yellow gold and I love the delicate size for everyday wear. Check out more about this necklace in this post.
Though these photos don't show it, on the bottom I've got on pink sneakers and my cabi joggers. It's an easy style for travel or every day life that can take me just about anywhere.
Pin it!
Use pinterest to save your favorite outfit ideas.
This outfit inspiration is not sponsored.