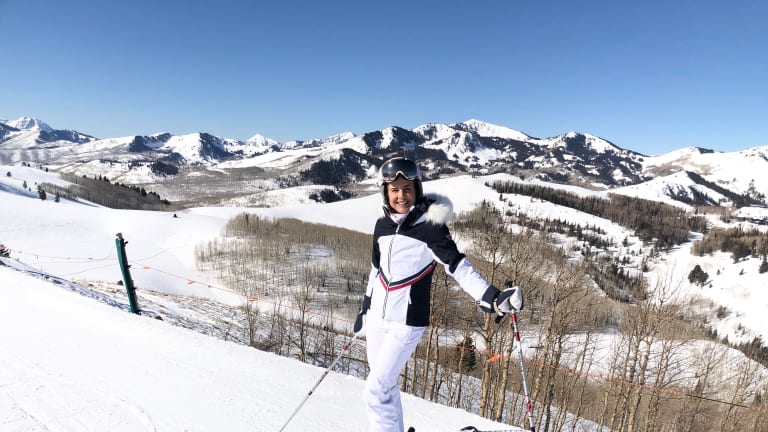 I'm wistful when I look at these photos from Deer Valley. Last March, I was lucky enough to ski with a friend of mine on one of my favorite mountains. I was out doing my yearly check-in with all the Utah mountains and picked up a few samples from Rossignol to try out on the slopes. Rossignol makes some seriously stylish ski apparel that meets both my form and function requirements. Getting good ski gear is an investment in your happiness on the mountain.
Related: Trip planning your ski vacation to Stowe, Vermont
I love to travel and I love to ski. Fortunately, I can still tap into one of my passions, the other is going to have to wait. This week I'm looking at the archives from 2020 so I can talk about the latest ski wear from Rossignol. If you are lucky enough to get to ski this year, why not do it in style. 
Getting Everything You Want From a Ski Jacket
On the East Coast, I'm all about layering and wearing shells. But when I'm out in Utah, I love a good insulated jacket for the warmth and comfort. Rossignol makes my favorite high-function jackets with high style.
I'm wearing the Emblem Jacket ($550) --it looks fantastic and has all the has technical features of skiwear you'll ever need. It's made with fully waterproof, two-way stretch fabric and insulated with lightweight padding. It's got a trim fit (I'm not keen on the baggy look) that flatters just about everyone. When I was skiing I was thrilled with the movement of the fabric. There is nothing stiff on this--I did a lot of skiing in moguls and this was a perfect match.
While I love the style (it's got a bit of a vintage vibe) and the warmth, my favorite features were all the pockets--there's a place for everything you need on your ski day. There's a ski pass pocket, hands pockets and interior pockets. Boom! Ski moms rejoice.
I tested it on a cold day and can report that the fully taped seams kept out the wind and cold. Get the Emblem Jacket from Rossignol here. Sizes run true and range from 2XS to 2XL. I'm wearing a small.

Save Money at a Ski Swap
Are the slopes in your future? If you want o save money on ski gear, consider a ski swap.  Connecticut  Ski Sundown SKI SWAP 2021. The Sundown Ski Patrol Ski Swap is one of New England's largest and longest-running swaps. Held in the Ski Sundown base lodge, you'll find a large ...read more
The Ten Best Wooden Play Kitchens For Kids
Cooking is a timeless fascination for children. This type of play goes beyond gender and teaches kids loads of life skills along the way. An investment in a play kitchen is money well spent, as it can provide hours of entertainment. We've rounded up the ten best wooden play ...read more
New Victory Announces a New Season of Shows
We know you're busy planning picnics and summer outings, but we wanted to let you know that The New Victory just announced their new season and it looks fantastic. We thought you'd like a sneak peek of what's in store! Each year the New Vic theater brings culture to tourists and ...read more
The Perfect Insulated Ski Pant
On the private Ski Moms Facebook group I manage, we ask and answer a lot of gear questions. One that pops up frequently is where to find a great ski pant. Ski moms come in all shapes and sizes. Fit really matters. 
Rossignol makes some tremendous ski pants. I love the Classique Ski Pant ($325). They come in four colors and sizes range from 2XS to 3XL --accommodating a lot of different shapes.
Again, not a fan of baggy pants. These have the perfect amount of stretch and really allowed me to focus on the fun of the day. Like the jacket, they are waterproof and insulated. Get the Classique Ski Pant from Rossignol here.
If you are looking to invest in new ski gear this season, be sure to head to Rossignol. It's a timeless brand and made for mamas who love the mountains. 
MORE SKI FEATURES FROM MOMTRENDS
PIN IT!
Use Pinterest to save your favorite family travel features. Be sure to follow our Ski Moms Pinterest Board.
Momtrends was not paid for this post.