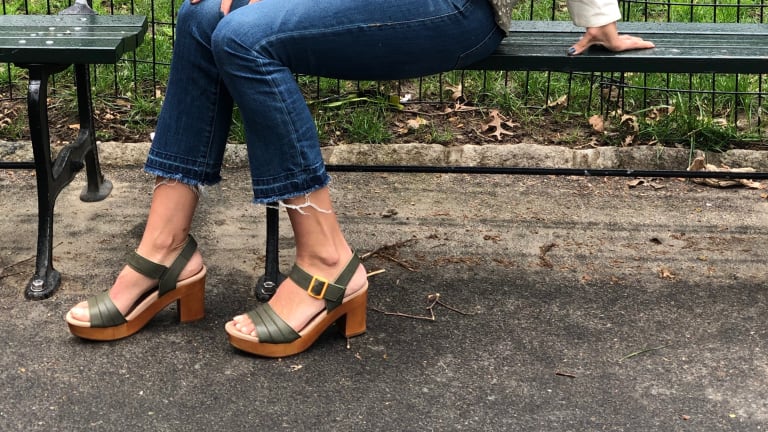 Shopping NYC Earth Shoes at Shoe Parlor
Hunting down great shoes and a great shopping experience in Manhattan
I'm a shoe girl through and through. Every spring it's a big celebrate in NYC when it's finally warm enough to put my boots away and start thinking about sandal season. Now that it's warmer and my toes are ready to see the sun, I did some shopping at Shoe Parlor here in New York City for new Earth shoes.
A great shopping experience in Manhattan
My first stop for spring shoe shopping was to Shoe Parlor. I hopped on the F train to 57 Street and head to the bustling store. It's steps away from Central Park and convenient to the NYC metro.
This is THE New York City's destination store to shop for classic sneakers, shoes and boots for all men, women and kids. I head here because the selection is excellent and they have the brands that make my feet happy.
For those of you who don't live in the NYC area, Shoe Parlor offers FREE shipping for orders over $60. 
Earth Shoes at Shoe Parlor
One of the top brands at Shoe Parlor is Earth. I've been a fan of the brand for years. The styling is modern and trendy, but there's a lot more built in. The Earth brand features a padded heel, arch support, and cushioning. They also make shoes that are kind to the earth. To date, they have planted over 480K trees with Trees for the Future. Find out more about the brand https://earthshoes.com/
They call it the "Powerpath" footbed design. I'm not sure of the science behind it, but these sandals make my feet feel great even after walking miles around this concrete jungle. 
Ficus Sagittarius in Gold
For summer, I'm wild about the Earth Ficus Sagittarius sandal. I picked the gold color since it coordinates with so many colors in my wardrobe.
The ankle strap is super soft and adjustable. There's a little hidden stretch built in. Style it with your favorite white jeans, a floral sundress or shorts. This is the perfect every day sandal that can go from work to play.
Shop the Sagittarius in Gold at Shoe Parlor here:
Earth Shoes Chestnut Sandal
For a shoe that's got more of a heel, but still loads of support, try the Chestnut. This leather sandal comes in a ton of colors. I opted for forest green to work with the neutrals in my closet.
The Chestnut sandal features premium leather and a "dual-density" footbed cushions your foot from heel to toe.
Thanks to the chunky 3" heel, you can wear this to parties without having to cringe. It's a terrific shoe for work or date night.  Pair this with your favorite denim skirt or a flirty dress. And of course, everything goes with denim!
Hunting down great shoes
Shopping for your spring sandals is a breeze with Shoe Parlor, head in and find the Earth selection and the awesome staff will have you outfitted in style. 
Now tell me, which pair is your favorite?
Pin it!
Use Pinterest to save your favorite shoe shopping destinations and styles.
This Shopping NYC Earth Shoes at Shoe Parlor feature is sponsored.