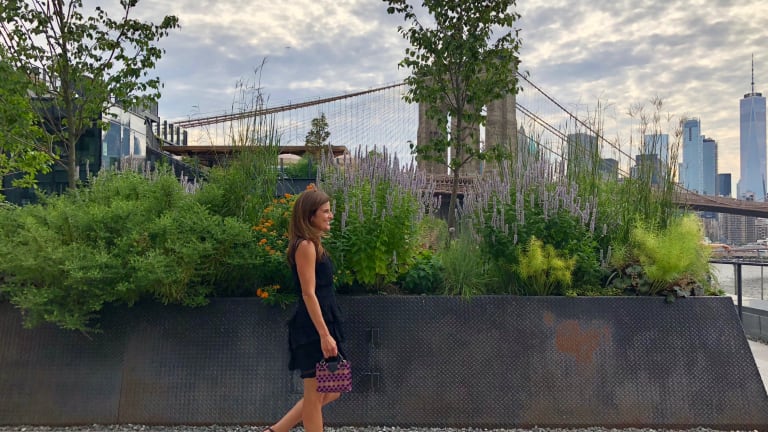 SHOPPING FINDS FROM PARIS
Favorite brand for French Fashion
A few years ago I stumbled into a Berenice store in Paris. I adored the trendy Boho designs and the quality was awesome; I love sharing my shopping finds from Paris. The store quickly became my go-to spot on our annual trip to France. I had to share this great dress I found in Paris. 
I was lucky enough to have my daughter working with me this week. I'm back from my break in Paris with Mr.Momtrends and she spent the week in the city. We went to the rooftop of the Empire Stores in DUMBO. She took these amazing photos. I love the way she sees fashion and it was so much fun to work with her.
Shopping Finds from Paris
Every girl needs a great little black dress in her closet. But what if you could find that little black dress at 50% off? Well you'd jump at it as I did. This summer dress is a great length and really easy to style. It's all cotton and has a bit of eyelet.
Accessorize Your Little Black Dress
To finish off this look I added my favorite flat black sandals from cousins sandals. I featured them last year, and I'm still smitten. The style works with this short dress. I think a heel would've been way to much.
I brought this little bag to Paris as my night-out bag. It's so small and easy to pack. It's from FWStyle. The Sade Mini Purple bag is tiny but packs in a ton of style. It can be styled as a clutch or as a cross-body.  And here's a fun fact, it's made with hand-woven Nigerian fabric called "Aso Oke".
I haven't been wearing much jewelry this summer (it's been hot) so I just let the bag be the big statement.
A huge thank you to my daughter for the photos!
Pin it and Style It
Use Pinterest to plan your wardrobe. 
This Shopping Finds from Paris feature is not paid.