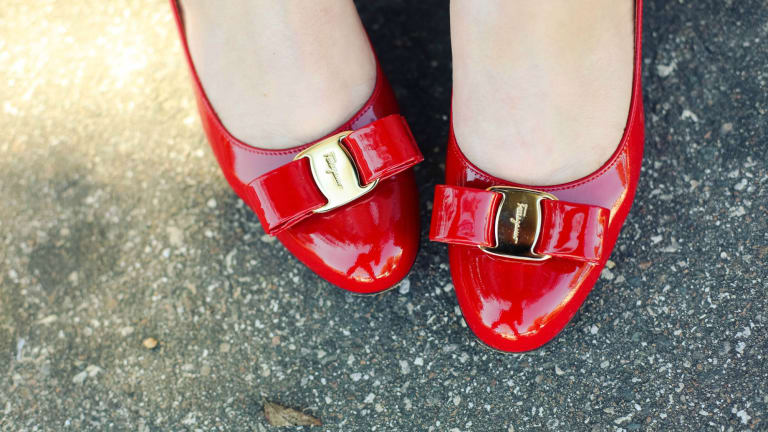 Let me ask you a question mamas. How's your holiday wardrobe shaping up? Could it use a little help? I know mine could use a boost and that's why I'm going to share some shoes every mom needs for the holidays! It's amazing what a new pair of shoes can do to bring back outfits you may be somewhat bored with at the moment. That little black dress you've worn a million times can look brand new when paired with some sparkly shoes for instance. If you do nothing else about your holiday style this year, at least pick up a new pair of holiday-ready foot candy. A fun new pair of shoes can put a spring in any mom's step! I've always found that when I'm feeling blah about what's in my closet, new shoes can change things without totally breaking the bank. Haha!
Shoes Every Mom Needs
Red flats...Yes, flats. I LOVE a good pair of heels, but they need to be balanced with flats in your wardrobe. There are going to be plenty of times during the holiday season when you want to look festive, but be comfortable. The school bake sale comes to mind. That's when a pair of fun red flats will be clutch. They'll give your outfit some holiday flair and you won't be soaking tired tootsies at the end of the day.
Sparkly heels...I know I just waxed poetic about my love for flats, but every mom needs a pair of oh-so-fabulous heels to turn to during the holiday season. Sparkles are just what the doctor ordered. Even a plain sweater and jeans combo can become so very special. In fact, that's my favorite holiday going out getup. At least once or twice during the season, I leave the kids with my mom so the hubs and I can go have a holiday cocktail together. Bliss!

Save Money at a Ski Swap
Are the slopes in your future? If you want to save money on ski gear, consider a ski swap. A swap is a great way to buy and sell used equipment. Most swaps consist of a variety of gear, from brand new to used skis and snowboards to skis; from poles to boots to bindings and ...read more
The Ten Best Wooden Play Kitchens For Kids
Cooking is a timeless fascination for children. This type of play goes beyond gender and teaches kids loads of life skills along the way. An investment in a play kitchen is money well spent, as it can provide hours of entertainment. We've rounded up the ten best wooden play ...read more
New Victory Announces a New Season of Shows
We know you're busy planning picnics and summer outings, but we wanted to let you know that The New Victory just announced their new season and it looks fantastic. We thought you'd like a sneak peek of what's in store! Each year the New Vic theater brings culture to tourists and ...read more
Over the knee boots...Just like every pair of holiday shoes I've mentioned, over the knee boots are so versatile. Throw them on with an oversized sweater and leggings and you have a tres chic holiday brunch look. Or go a step further and pair them with a sequin tunic and skinnies for a girls' night out. Now you can go the heeled or flat boots route, but I vote for flat, that way you can dress them up OR down!
Animal print sneakers...Nothing beats kicks for holiday-errand running, but that doesn't mean you have to turn to your trainers. Sure, they have their place, but why not pick something a little more fun during the holiday season? Animal-print sneakers are totally fun and comfy to boot. And I love a nice slip-on style for ease of use. Not that I don't have time to tie my sneakers...Actually, maybe I don't. This mama has some serious holiday shopping to do!
Shop the post: red flats / sparkly heels / over the knee boots / animal print sneakers
On that note, have you checked out our holiday gift guides? We just might shorten that holiday shopping list of yours! And make sure you check out the shoes every mom needs for the holidays that I linked...You know you can always count on us for your holiday styling needs too!
Best Gifts for Kids / Best Gifts for Mom / Best Gifts for Grandparents
We were not paid for this post. It does contain affiliate links.