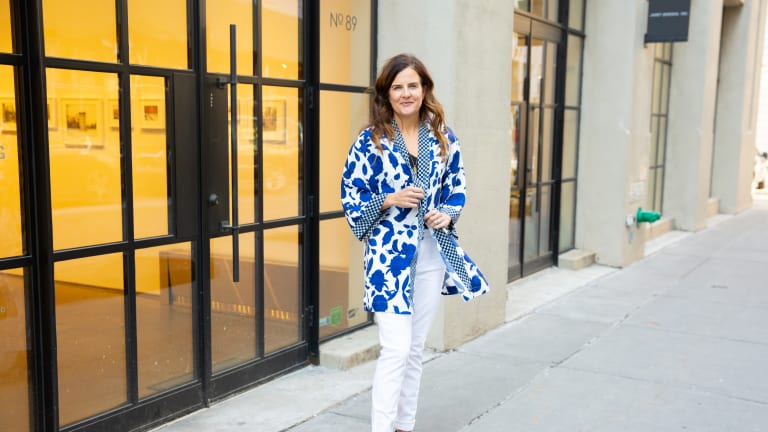 Putting together fun outfits for spring
A new piece from cabi might be the perfect thing to make working from home seem a lot sunnier.
I know spring 2020 is like no other. Many of us are feeling insecure about the future. I get it. For many of us putting together fun outfits for spring is not on the top of the list. But ladies, I'm here to talk about the power of fashion to lift our spirits. A new piece from cabi might be the perfect thing to make working from home seem a lot sunnier. 
Related: The prettiest dress for spring
Putting together a cabi outfits for spring
The entire outfit (minus the accessories) is from cabi. You've heard me talk about them before. It's an at-home sales company employing many women who want the flexibility of working from home and crave the creativity of working with fashion. Now more than ever, women are appreciating the need for a flexible schedule.
The secret sauce for cabi is the style. Each season the designer at cabi interpret the trends for real women. This is something I could wear to work (I'm lucky to work in a creative field) or play. It feels fresh, boho chic and ready for fun.
How to Style the Kimono Top
A kimono is the ultimate style solution for spring. It's easy to layer and doesn't require a lot of energy on your part. Wear it open with a tee shirt like the Relax Escape Tee and add your favorite jean.
I love the flow of this jacket. It skims the hips and works with so many figures and heights. Plus, there's nothing more cheerful than this blue floral print. It's like a burst of happy in your closet.
The Perfect White Jean
I always advise being very careful about what you add to your closet. It's easy to get overwhelmed with too many pieces of clothing and nothing to wear. A great pair of white jeans is a closet essential. 
The Cinch Skinny is a pretty little workhorse. It's the pair you can wear 2-3 times a week -- it's a jean that works as hard as you do. Since it's white, it's good to know you can pop them in the wash. Like almost all o f the cabi collection these clothes never have to go to the dry cleaners. 
The style is a classic 5-pocket design and it comes in sizes 0-16. It's got a wider waistband that comes up over my hip. I'm so thankful that the low-waisted trend is a thing of the past. I love the long lean lines of this fitted jean. It makes this mama feel pretty and pulled together. 
LOVING THE WAY YOU FEEL IS ALWAYS IN STYLE
Are you ready to boost your style this spring? You'd be surprised what a few pretty new pieces can do for your mood. Even if you are telecommuting, what you have on matters to YOU.  Make sure you check out the cabi spring collection. It's loaded with color, print and pieces that will have you feeling more optimistic. I can't wait to share more of my cabi picks with you. Be sure to follow along here and @momtrends on Instagram.
Now fill me in. Have you ever shopped at a cabi event? Would you be able to wear this to work?
MORE FASHION TIPS FOR MOMS
PIN IT!
Use Pinterest to save your favorite fashion posts. Be sure to follow our Mom Fashion Pinterest board here.