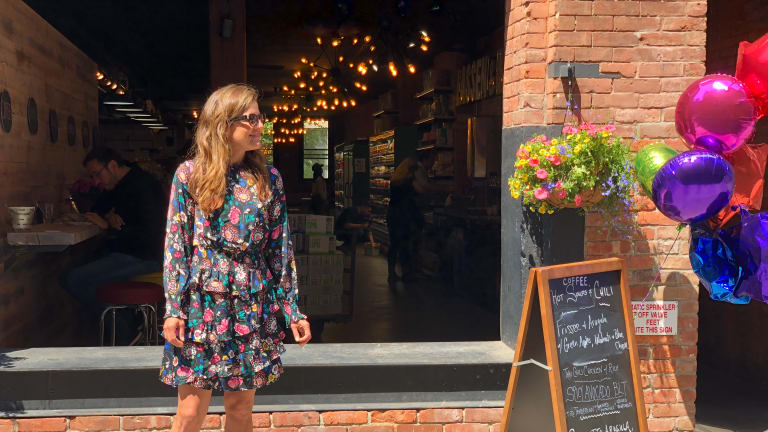 Pretty Long-Sleeve Summer Dress
Amazon Fashion Under $100
Summer dresses are definitely my favorite. I love the simplicity of it all. All I need is one item of clothing, plus a great pair of shoes and, BOOM, my outfit is done. While I love strappy dresses, when I have a business meeting or event, I don't like to feel overly revealed. This pretty long-sleeve summer dress looks professional and pretty at the same time. The best news: I found this pretty long sleeve summer dress on Amazon for under $100. 
Pretty Long Sleeve Summer Dress
I had to do some hunting on Amazon, but I'm glad I did. The floral print on this Ella Moon dress can take me from spring all the way through fall. I like the fit, the waist is smocked and it's as comfortable as it is stylish. And while I like some ruffles, I don't LOVE ruffles. This is an understated take on the trend. Plus, this dress travels quite nicely. So it'll come along on my summer adventures.

Amazon compares this dress to something you might find at Anthropolgie. I totally agree, except for the price. This dress is only $69. The best news ever.
Amazon Fashion Shopping Tips
You've got to be willing to put in the work to find the good stuff. Amazon Fashion has been getting better and better, the problem is, it's still not that much fun to shop Amazon. If you know what you are looking for, you can get some great deals. 
Click on Amazon Fashion: This will take you to the best looking part of Amazon. They still have a lot of work to do, but there are outfit ideas here and some styling tips.
Search by Vendor: Enter your favorite brands. They might not come up, but the suggestions will be related.
Refine your search: The more information you enter (size, color, etc), the easier it will be to whittle down the options.
Read the reviews: Customer reviews will give you loads of details about fit and quality.
The Cabi Shoes 
Enough about Amazon, let's talk shoes. You know I love my shoes. These strappy red Tip Toe sandals had to find a home in my shoe closet. The chunky heel makes them a solid choice for summer weddings and outdoor parties. The bright, cheerful color works with a lot of the my summer florals. The 4" stacked heel is modern and chic. Yet another find from cabi that needed to be mine.
Pin It and Wear It!
Use pinterest to get outfit ideas. Let me know if you try any of my outfit suggestions.
This Pretty Long Sleeve Summer Dress feature is not sponsored.