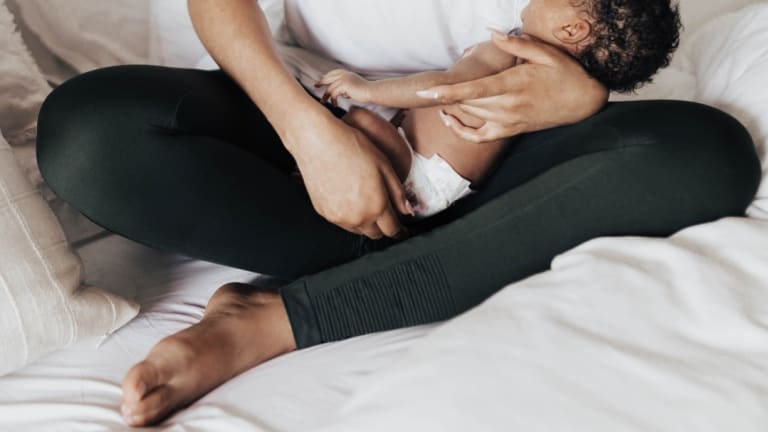 Momtrends MVP'S: The Best Postpartum Style Essentials
Read on for details on our must-have postpartum style essentials from the best postpartum tee to the best postpartum leggings and more!
Shopping for your postpartum period can seem tricky, but I am here to tell you that it doesn't have to feel quite so overwhelming. Often known as the fourth trimester, your postpartum time should be filled with minimal stress and lots of magical baby snuggles. 
That is why team Momtrends is here to help you get together an easy capsule wardrobe filled with postpartum style essentials! I rounded up a bunch of postpartum pieces that you can mix and match to give you that chic, flattering, yet comfortable, style you're after!
And we can't forget about the nursing compatible feature. If you're breastfeeding, you want tops and dresses that are easily accessible to your baby. I kept that in mind too!
Now, for our purposes here, I went with neutral hues, but you could easily add some color with accessories or select one of the other color options each piece comes in!
So, let's talk about postpartum style essentials shall we?
How to Buy Clothes Postpartum
The key to buying postpartum clothes is to focus on comfort. That being said, you don't ever have to sacrifice style for comfort. Take it from this girl. I have decided that at this stage in the game, there is just no reason to be uncomfortable. That attitude took root after my first baby was born and has only grown as I have continued on with life.
So, when you are looking to buy clothes postpartum, seek out free flowing, flattering pieces that will support your changing body. And you might want to pick up some compressions pieces as well because they can feel just as comfortable as a floaty dress depending on your needs. 
Sometimes you want ease, sometimes you want support. You will find both kind of postpartum fashions in our latest Momtrends MVP'S maternity, baby and beyond edition!

The Best Postpartum Tank
Being postpartum in the spring and summer can feel just as hot as being full on pregnant in the warm weather months. So, cooling pieces like the Ingrid + Isabel Cooling + Pumping Cami are a dream come true.
This tank is the perfect layering piece and has built-in cooling minerals to wick away moisture and dry up super fast even when it does get wet. 
I love how this versatile cami lets you nurse, pump or simply smoothe your mid-section!
Get the Ingrid + Isabel Cooling + Pumping Cami here.
The Best Sleeveless Postpartum Top
While you may want to layer your looks in the springtime, once summer hits, that probably won't be the case. A flowy sleeveless top is a warm weather must-have in my book!
Cadenshae makes a breastfeeding top that's a perfect neutral grey and goes with everything from shorts, to skirts and leggings!
I love how flattering the drape is on this sleeveless postpartum top. You could easily wear it right from the gym to lunch! You know how much I love versatility! All us moms do right?
The Best Postpartum Tee
No matter what stage of your pregnancy you're in, first, second, third or your fourth trimester, a comfy tee is always a necessity.
The Belly Bandit Perfect Nursing Tee can be worn during all of said trimesters and the shirttail hem perfectly covers your belly and/or your bum.
This is the perfect tee to wear with your go-to compression leggings, more on those later, or as I like to call the whole ensemble my go-to postpartum uniform!
Get the Belly Bandit Perfect Nursing Tee on Amazon here. (note: this is an Amazon Affiliate link)
The Best Postpartum Leggings
Athleisure has long been my look of choice for everyday life and that was especially true during my postpartum periods. High-waisted leggings with some compression is my favorite hero piece!
Why do you need postpartum compressions leggings? Because they support your tummy, something it needs both when the baby is inside and outside of it!
My current favorite postpartum leggings are the Kindred Bravely Martina Maternity & Postpartum Support Crop Leggings because they're super flattering and the stretchy waist can be folded up or done depending on the level of support you want!
Get the Kindred Bravely Martina Maternity & Postpartum Support Crop Leggings here.
The Best Postpartum Bike Shorts
Bike shorts are something that I hope stay on trend for a long time because they're so darn comfortable! They replace my go-to leggings when the weather really heats up.
Throw on that flowy tank I mentioned earlier with a cute pair of kicks or sporty slides and you have a fabulous warm weather outfit!
Baobei Postpartum Recovery Shorts gives you the support and compression postpartum leggings do, yet will keep you nice and cool! I just love the recovery panel which was specifically designed to support your abdominals after your baby is born!
Get Baobei Postpartum Recovery Shorts here.
The Best Postpartum Jeans
I know after my babies were born, jeans sounded less than appealing. Thankfully maternity and postpartum denim has come a long way!
You can now find fabulously flattering AND sublimely comfortable jeans in the latest trends. I don't always subscribe to trends, but I do like to have a pair or two of the currently popular denim looks on hand.
My favorite example of this is the Blanqui Denim Postpartum Belly Support Flare Jeans. Flares are so hot andthe  pull-on design and built-in supportive waist are postpartum must-haves for sure!
Get Blanqi Denim Postpartum Belly Support Flare Jeans here.
The Best Postpartum Dress
Once a certain temperature hits, I practically live in maxi dresses. They're flowy, freeing and perfectly breezy in the summertime. 
Plus, maxis can be worn so many different ways. They can be casual with sandals, dressed up with wedges and even worn as a swimsuit cover-up!
The Hatch Maxi Nursing Dress is such a big hit with me because the flowing jersey material is both flattering and, you guessed it, SO comfortable. Plus, the stylish pleating hides a nursing access panel. How cool is that?
Get the Hatch The Maxi Nursing Dress here.
The Best Postpartum Jumpsuit
Jumpsuits tend to be controversial, but I really don't understand why. They're simply adorable in this jumpsuit lovin' mom's humble opinion.
As long as you pick a jumpsuit that is easy to get in and out of, where is the controversy? I definitely get that you don't want to be struggling to get your clothes on and off, but there are plenty of jumpsuits that don't tick the uncomfortable box.
The Eberjey Elon Relaxed Ribbed jumpsuit, for example, can be easily pulled down for nursing and is made from the lightest, airy fabric. That's why it landed in the top jumpsuit spot on this list!
Get the Eberjey Elon Relaxed Ribbed Jumpsuit here
With that last piece added to the pile, you have a slew of stylish postpartum essentials to choose from. That means I think you're officially ready to tackle your postpartum wardrobe!
And now that you have a handle on what I consider the best postpartum style essentials, why not check out some of our other maternity and baby must-haves?
More of Our Favorite Momtrends MVP's Winners
Follow the Links Below:
Pin It!
Save your fave baby gear and ideas on Pinterest and follow along with our Gear for baby and kid board!
How We Pick Our Winners
Momtrends MVP's is a non-sponsored series. Brands must meet our strict standards to be included. When naming winners we take several factors into account, including expense, convenience, and style.
We make our picks annually based on editors' research. In some instances, we may request and receive samples so that we can more thoroughly assess products. Our opinions are our own, and our goal is to help our community of moms make more informed decisions on everything from baby gear to beauty products to vacation destinations and more. We scour the abundant options and painstakingly hand-pick our favorites, so you don't have to. Our hope is that our most valuable players become your most valued purchases.