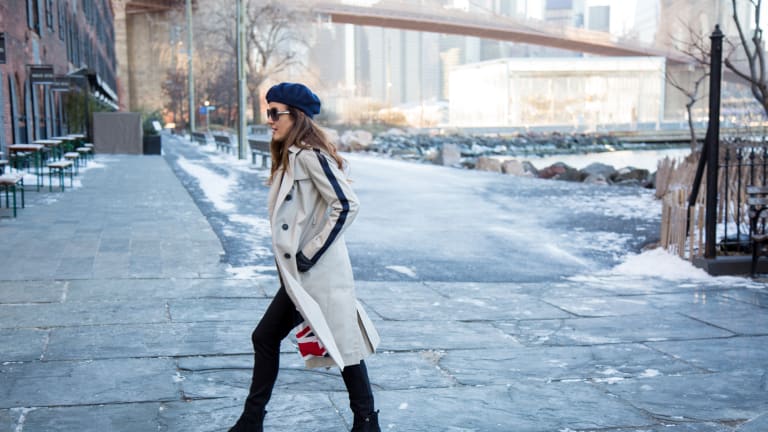 Perfect Women's Trench Coat
The Best of Britishness from Boden Wardrobe Staple
Do you have a trench coat you love? This classic clothing piece was originally invented for the British army in World War II, (wikipedia says Thomas Burberry invented the gabardine fabric in 1879 for the UK war office in 1901). In the past hundred years, the trench style has become a staple for women and men. A perfect women's trench coat can get you through all the weather that late winter and early spring can throw at you.
Trying on a Perfect Women's Trench Coat
Last year, this cabi spring trench was on constant repeat. I loved the color and the length. This year, I'm trying a Boden trench on for size. The PR team from Boden shipped this to me to style and shoot (sadly, I did have to give it back!). Consider me impressed with the quality and the style.
The Boden military-inspired trench coat is accented with a grosgrain trim across the shoulders and down the long sleeves. The strong lines make this jacket appear trimmer. When they shipped the jacket, Boden forgot the belt, but I like the trim shape -- it works even without it.
Perhaps the best part of this jacket is the inside-- check out the Union Jack print. I always appreciate an unexpected lining. 
How to Style a Trench Coat
When it comes to styling a trench coat, I recommend simplicity. Most trenches have a lot of fabric, so you want to keep it pretty trim underneath. I have a pair of knit cabi pants and a cashmere black turtleneck. It's a pretty simple outfit and works for travel.
Booties are always a good idea when you travel and this black suede pair looks perfect. I added shades and a beret to make it look more urban. What do you think? Would you buy this coat for $200? 
Get the Boden Trench Coat here.
Want more early spring fashion inspiration? Check out this cool nautical coat.
Pin it! 
Use pinterest to map out your spring outfits.
This Perfect Women's Trench Coat feature is not sponsored.