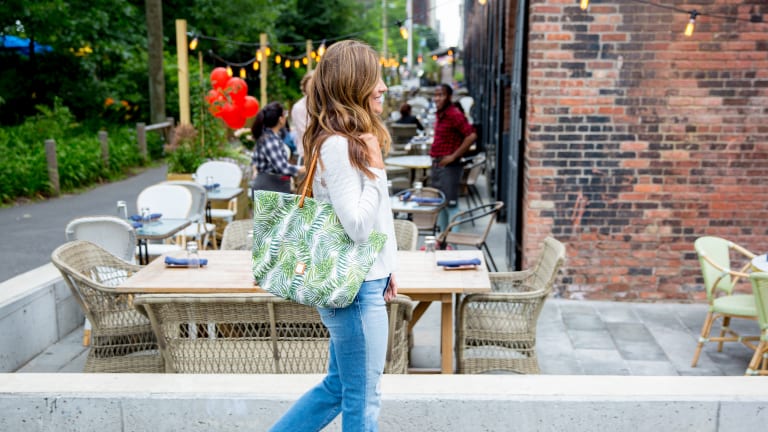 Perfect Summer Tote for Work or Play
On the Go with Dooney & Bourke
I wish I was the girl who could carry the cute, little tiny bag. You know, the adorable clutches and sweet cross-body bags. But I'm the girl who needs her laptop, her chargers, a hairbrush and 17 lip glosses. Inevitably, my bag is larger and more utilitarian. I've been on the hunt for the perfect summer tote for work or play. 
Perfect Summer Tote for Work or Play
This summer, I'm toting the Siesta Addison tote from Dooney & Bourke. It's got a bright botanical print and room for my mobile office. The palm leaf print is modern and timeless. It's lightweight - ideal since my laptop and other requirements can add on the pounds. 
Styling my Summer Casual Outfit
I'm lucky that my work lets me be pretty creative in what I wear. Some days I get dressy, others I'm totally casual. To style the Siesta tote, I paired it with some new jeans from Brooklyn Industries and my rose gold Vionic Tide II sandals.
Here's more about the sandals:
The top is from cabi. A few seasons ago (it's from the cabi spring 2016 collection), I found this great white sweater, it's lacy on the back and is a fabulous summer piece. Thanks to Clorox stain remover, I've kept it really white for more than two years. Adding a white top to denim is an easy way to make a simple and pretty summer outfit.
Momtrends Fashion Tip: with a big, bold print like this tote, you don't need many other accessories. Especially in summer.
Pin it and Wear it!
Use Pinterest to plan your outfits and shopping.
This Perfect Summer Tote for Work or Play feature is not sponsored.