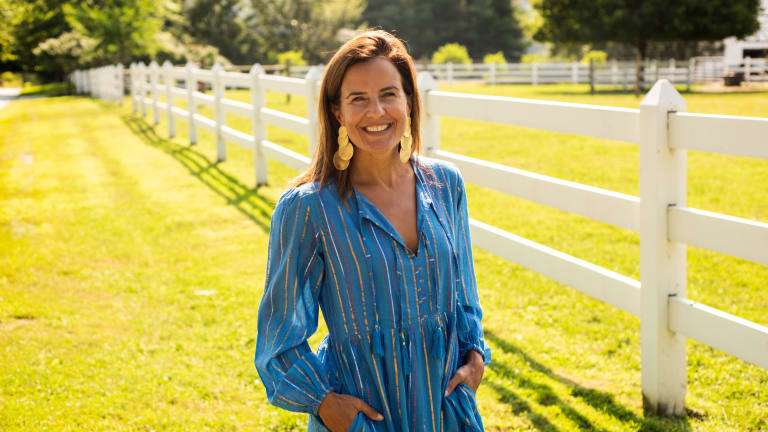 Perfect Summer Dress for Every Figure
The perfect light dress in bright colors to celebrate the end of summer
Hello August! It's one of my favorite times of year. My kids are either at summer camp or at home savoring the last weeks of freedom. It's time for my big tomato harvest in my kitchen garden, and it the perfect season for dresses. Last week we features another dress from Oliphant, this one was sleeveless. This week I'm sharing the perfect summer dress for every figure.
Perfect Summer Dress for Every Figure
I know many women have one area they try to focus on and a maybe an area or two they feel less confident about. The great thing about this Rio dress from Oliphant in Litchfield, Connecticut is that it works on just about every body type.
For many women 30+ arms are a thing. Not everyone has time for pilates and yoga, and extremely strappy dresses can leave women feeling over exposed.  
Rio Dress from Oliphant
The colors in the Rio Dress ($238) are a fiesta of fun. And the lightweight cotton is ideal for even the most humid August nights. The gold woven into the fabric is eye-catching and the bold blue color is a source of happiness. Slip it on and be transported to your favorite vacation spot.
Shop the Rio dress at oliphantdesign.com or in person at the store in Litchfield, Connecticut. FYI: I'm wearing a small and I'm 125 lbs. 5'6", dress available in XS tp XL. 
A note about the setting: Arethusa Farm
Arethusa Farm is home to over 300 of the world's finest purebred dairy cows and makers of my favorite American ice cream. Arethusa Farm Dairy opened in Bantam in 2012 (we've been coming to Litchfield County since 2005) and it was a warm welcome. 
They've given the area great dairy and produce from the farm and a touch of elegance. The farm is one of the prettiest you've every seen and the cows are simply gorgeous.
If you get up this way, definitely head to Arethusa Farm Dairy for cheese and ice cream or pop into dinner at Arethusa Al Tavolo for dinner (reservations suggested) -- it's a great farm to table experience.
And the Shoes?
The shoes are from Oliphant's CT boutique. Cara designs a lot of what the store carries, but they also have a few other designers in store. I'm wearing a pair of sandals from Meher Kakalia.
I feel hard for these Meher Kakalia sandals. Meher Kakalia is a Karachi-born (Pakistan) designer who now lives in London. Her idea was to design an original collection of shoes based on her country's rich tradition of hand embroidery and shoe making. I'm not upset that I didn't get these shoes in more than one color. They are fabulous and so comfortable.
To order the shoes, contact Oliphant 860-567-8199
Accessorizing Summer Dresses
As I've said time and again, less is more in the summer. Picking one accessory is the way to go. These bold gold earrings are also from Oliphant designer, Cara Hotchkiss. When she started the collection it began with jewelry, from there, she expanded into textiles, but it's clear she's got a talent for all things sparkly. 
More Summer Fashion Fun on Momtends
Stay chic this summer with our favorite summer fashions. 
PIN IT!
Use pinterest to save your favorite fashion finds.
This Perfect Summer Dress for Every Figure feature is not sponsored. All images by Gabriel at GreatLightPhotography.com