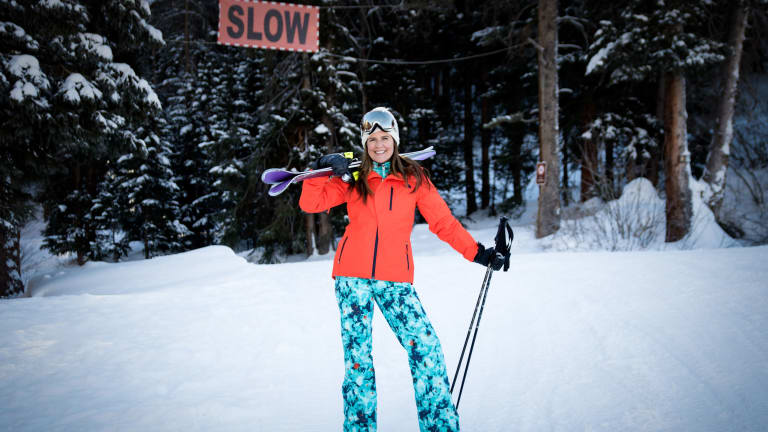 Publish date:
Perfect Ski Jacket for Layering
Loads of style on the mountain
Loads of style on the mountain
Ski season is here and I found the perfect ski jacket for layering. I've already skied 22 days this year (including this great trip to Sunday River) and this new ski jacket from The North Face has been keeping me warm and dry and I love the way it stands out on the mountain. Doing my research about skiing is a big part of my winter. Here's what I found.
The perfect ski jacket
The Women's Clementine Triclimate Jacket is more of a ski system than it is a regular ski jacket. The shell is waterproof and made of DryVent. The inside is a colorful insulated jacket. Each piece can be worn alone or you can combine them together for maximum warmth.
My favorite ski jacket details are the zippered wrist pocket with goggle wipe and the snap-away powder skirt with gripper elastic.
The Dryvent technology definitely works. I've tested this jacket out in the rain at Squaw Valley and in the steep powder at Vail. The waterproof shell keeps me warm and dry. It has a waterproof rating of 25 PSI minimum after 20 launderings.
Momtrends Tip: Don't dry clean these jackets. The waterproof material gets better with washing! When I met with The North Face rep, he told me to use powdered detergent and to put the coat in the dryer.
The Clementine jacket is available in sizes XS through XL and comes in a variety of sizes. Shop on The North Face here.

Five Tips To For a Girl's First Leg Shave
Do you remember your first time shaving? Mine wasn't pretty. I snuck my dad's razor and shaved my legs dry. It wasn't pretty. Get your daughter ready for this rite of passage with the right tools and a quick education. We've got five tips to help you navigate your daughter's ...read more
Why You Should Add Wild Blueberries to Your Diet
Do your New Year's goals involve healthier eating? Adding more fruits and vegetables to your diet? Or even adding tasty new recipes to your repertoire? We've got five reasons for you to add wild blueberries to your diet. Our friends from the Wild Blueberry Association have ...read more
Why Moms are Loving This Blueberry Couscous Salad
It's blueberry picking time. And while most blueberry recipes revolve around baked goods, we've got something different to share. First, a few sentences singing the praises of this lovely fruit. Blueberries are high in antioxidants, improve memory function and reduce the effects ...read more
Check Out These Ski Pants
I'm smitten with the Women's Sally Pants from The North Face. Insulated and waterproof these pants have a great fit and keep me quite warm on the mountain.
These breathable ski pants are light and fit like a dream. They have a synthetic insulation for warmth in "cool-to-cold temperatures."  These also have DryVent technology and I've tested them in 40" of powder and can attest they will keep you dry.
The Sally Pants come in sizes XS through XL and are offered in a variety of colors, but I love this bold print. Shop for the Sally Pant here.
Snow Boots
Don't forget your snow boots when you head to the mountains. I love this pair from Lands' End. Shop Lands' End snow boots here.
Pin it 
Use pinterst to save your favorite winter fashions.
This Perfect Ski Jacket for Layering feature is not sponsored.