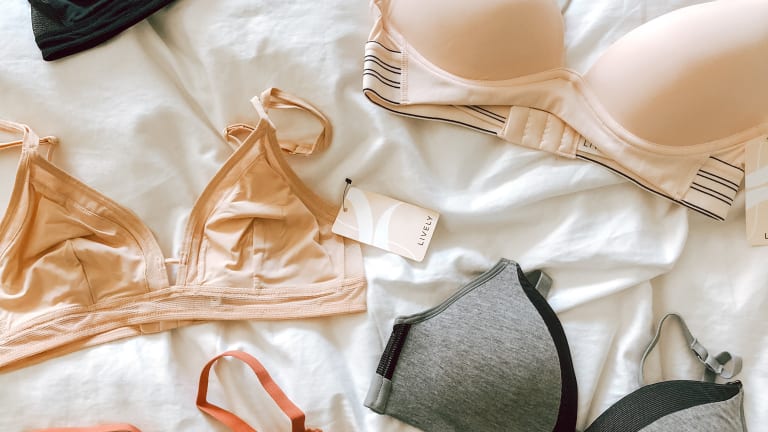 Perfect Bras that are Supportive and Comfortable
These are the bras I reach for everyday as I lead homeschool and run my little empire. They are pretty, supportive and a great price.
I'm here to tell you facebook ads really work. Lively wore me down during the early days of the COVID shut down. I was stuck at our new home with a handful of bras. I wanted the perfect bra that was both supportive and comfortable and allowed me to forget I was even wearing one.  Nothing I have up here was working, I shopped for a solution.
Related: How to size your bra
Perfect Bras that are Supportive and Comfortable
I have a few fancy underwire bras back in NYC, but they aren't what I need. I kept seeing the Lively ads pop up on Facebook, and finally I gave them a try to see if they were both cute and supportive as promised. 
I ordered a bunch of different styles on the website and was happy to see them shipped promptly. I had my order in about a week (with no extra shipping) and I was ready for a try-on session.
Lively bras are all about everyday comfort. The brand has a friendly price point and an easy-to-use website. Nowadays, it's easier to shop online and just return what doesn't work. I'm a 34B (on a good day), and sometimes can't find smaller sizes in stores. Lively has sizing for everyone from 32A to DDD. And in the larger sizes, they do make accommodations for larger cup sizes with wider straps. 
They are a vertical operation, meaning they have a factory where they make their pwn products, this allows them to modify styles quickly and keep a keen eye on product quality. Lively also sells directly to consumers (not department stores), so they can control pricing and make the online shopping experience a fun one. 
Lively Try On Session
I ordered five bras in all. I wanted to get a good feel for the products and the sizing. Overall, I was thrilled with the quality. I ended up keeping three bras (there are discounts for buying multiples) and returning two. It's a VERY easy return process and I'm thrilled with what I've kept. 
The All-Day Deep V No-Wire
I adore this lightly lined bra. It has awesome front-adjusting straps which makes it super easy to fit. Plus, for girls like me who LOVE tank tops, it's got a clever J-back closure that turns this standard bra into a racerback. It's structured to support like an underwire bra without the wire. And the plunging V makes this ideal for low-cut tanks. It's a must-have for summer.
Get the All-Day Deep V Bra on Lively here
The Deep V No-Wire
This is the perfect tee-shirt bra. It's very light, but it also keeps things smooth. Like the All-Day version, this too has the J-back closure. I'm showing how I wear it with my tank tops. This is the bra that I reach for time after time. It's a great value. 
Get the Deep V No-Wire Bra on Lively Here
The Crochet Lace Bralette
Here's a perfect example of an "everyday" bra that goes above and beyond. The straps and chest band are incredibly comfortable. I like the wide band (though everyone may not feel the same). It's so pretty!
This is my "fancy" pick, but it's only $35! This bra comes in sizes XS (30A-B, 32AA-B), S (32C-D, 34AA-B), M (32DD, 34C-DD, 36A-B), L (36C-DD, 38A-D). Fit note: the brand says to size up if you're between band sizes. It comes in three colors, I picked the matte rose color (remember this is my FANCY bra).
Get the Crochet Lace Bralette here on Lively.com
Perfect Bras from Lively
I kept three styles and absolutely love them.  I also tried the Mesh Bralet, but found it lumpy. But hey, I'm really happy I tried the brand and did the research. These are the bras I reach for everyday as I lead homeschool and run my little empire. They are pretty, supportive and a great price. I wish I could tell you I was one of those hand wash the bra people, but I'm not. Everything goes into our washer and then I line dry my bras. They can't be "precious" or they just won't work for me. Bras that fall in the $30-$40 range are exactly in the sweet spot. I'm hooked on Lively now!
Shop the Lively collection here.
MORE FASHION FUN FOR MOMS
PIN IT!
Use Pinterest to save your favorite fashion posts. Be sure to follow our Mom Fashion Pinterest board here.