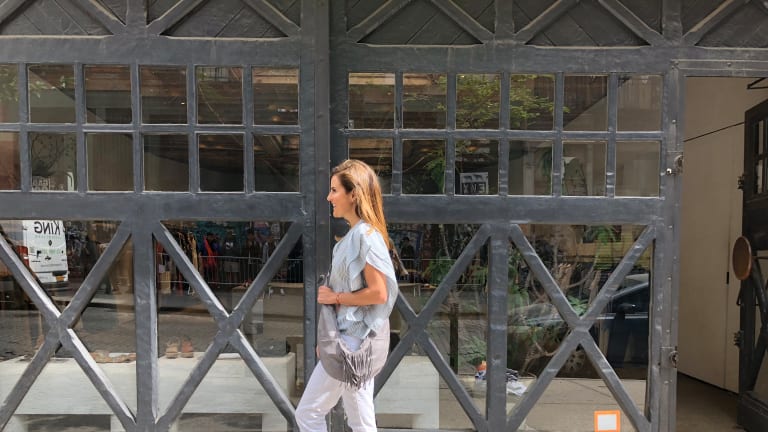 Publish date:
Perfect bag for summer travel
Vacation Essential from Sash Bag
Vacation Essential from Sash Bag
I have a ton of fun trips coming up. We're off to Portugal with the kids and then, later, Paris without them (got to keep the romance alive!). Of course I'm going to need the perfect bag for summer travel. This sash bag is the solution to my packing issues. It's stylish and extremely practical. The perfect bag for my adventures.
When I am traveling, I want to keep my hands free. I also don't want a huge bulky backpack or tote. I've found a new mom essential that will let me bring everything I need to bring on my European explorations without sacrificing  my style. 
A Cooler Fanny Pack
My kids mock me for running with my running belt. They call it a fanny pack and they get the giggles when I wear it. But it's so practical! I can get my key, ID, a bit of cash and my phone. When I travel, I often long for a fanny pack for the practicality. But I admit they look dorky. A Mom Boss designer, Nichole MacDonald, dreamed up something better. 
Nichole designed and patented the Sash Bag: it brings the utility of a hands-free fanny pack and updates it with style. 
Details of the Sash Bag  
Sling the bag over your shoulder as a cross-body bag. It's light and very adjustable. The interior of the bag is kitted out with sections to secure all your valuables. I am able to fit my full key ring in here and my back is loving the break from my oversized tote.
What I'm Wearing
Since spring can be chilly and a good traveler always has layers, I added the Tanner Trench from cabi. The blue color looks great with the bag.

5 Pretty Ways To Organize Your Jewelry
I admit - I'm guilt. Despite my best efforts, my "jewelry drawer" has become a tangled mess of necklaces, bracelets and earrings. This cluttered collection not only makes it hard to see what I have, but difficult to untangle the pieces I do want to wear! This summer, I'm ...read more
This Year's Coolest Jumbo Pool Floats
Pool season is almost here! I can't wait to relax, read a book, and sip a cocktail while lazily drifting in an oversized float. (Just kidding, I have two toddlers--but a swim mama can dream, right?). If you've got a staycation planned, check out this year's coolest jumbo pool ...read more
Crystal Clear and Pristine: Pool-Cleaning Tips
Tropical Storm Isaiah gave us quite the midsummer surprise here in the suburbs of New York City. We just got our power back on after a whole week of darkness! With trees down, debris everywhere, and lots of uncertainty, one thing we forgot to check on: our above ground Intex ...read more
I'm wearing the Fringe Gray Leather Sash Bag ($149). The leather on the bag is lightly distressed and the color is perfect with whites and pastels. The fringe gives it a boho vibe. I will definitely be carrying this all over Europe. The Sash Bag comes in an array of leathers colors. There are also vegan leathers, metallic leathers, patchwork leathers, cottons, and more. Have fun matching a bag to your personal style.
Easy Travel Outfit
To put together this outfit, I started with white denim and some old favorite Robert Clergerie sandals. I added this new Splendid Ruffle Striped Top that I found on Amazon. It's very lightweight and has a flattering drape. I layered on the cabi trench to start the day. 

Layers are always key when planning the perfect travel outfit. 
A note on the Makeup
If you didn't read my Blushington review, be sure to check it out. My makeup is all professional (and looking so much better than normal).
Pin it and Wear it!
Use our pins t help plan your wardrobe.
This Perfect bag for summer travel is not a sponsored post.