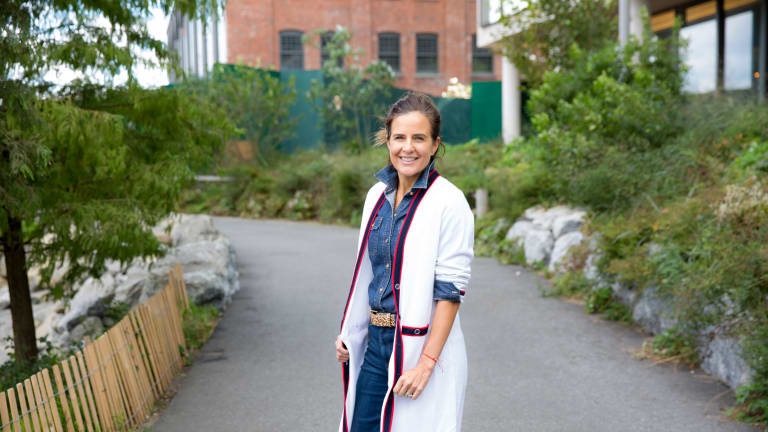 New ways to style denim
Shopping your closet for outfit inspiration
I'm always looking for new ways to style denim. Denim is such a staple in most women's wardrobes because it's incredibly versatile. It's great for work or play. I admit I've been in a bit of a skinny leg rut, so this week I'm trying a new silhouette -- the wide leg cropped.
Styling Cropped Jeans
This pair is called the Vivien. It's got a wide leg, high waist and a rough hem that's cropped. It's a new look for me. I will say I struggled because at first; I thought it chopped me up a bit. I never want to look shorter or wider. Then I got the hang of playing with proportions. First, I added length by matching the color of my top and bottom. Then I layered on a long cardigan. Finally I added a heeled boot. I'm really happy about how this outfit turned out.
The Vivien cropped jean is by Ella Moss and available at most department stores. You can shop it at  Lord & Taylor here.
Long Cardigans for the Win
I'm crazy about long cardigans and love styling them. This Merino Tipped Duster is by Talbots. I think long cardigans are elegant and also practical. I find them slimming and I am of the school that most days I like my back side a bit covered. Shop this long cardigan at Talbots here.
In addition to denim, this looks great paired over tailored black pants or a sheath dress. Think of it as an option instead of a blazer.
Layering in Accessories
To play with all the denim and pull the whole outfit together, I added in a few fun accessories like the leopard cabi belt. I've styled it a lot of ways, including with sweater dresses and suits. My fall shirtdress from cabi looked great with it. 
For the boots, I think flats look great with these cropped jeans. Try them with sneakers or ballet flats on warmer days. For crisp fall days, I like these Nic and Zoe suede boots. You can check out the sequin skirt I styled from this brand here. The brand is all about being accessible. Nic and Zoe are also known for mixing textures. This chunky suede boot will be worked into many outfits this season. 
What do you think? Are you going to try this trend?
Pin it 
Use Pinterest to plan your favorite outfits.
This new ways to style denim feature is not sponsored.