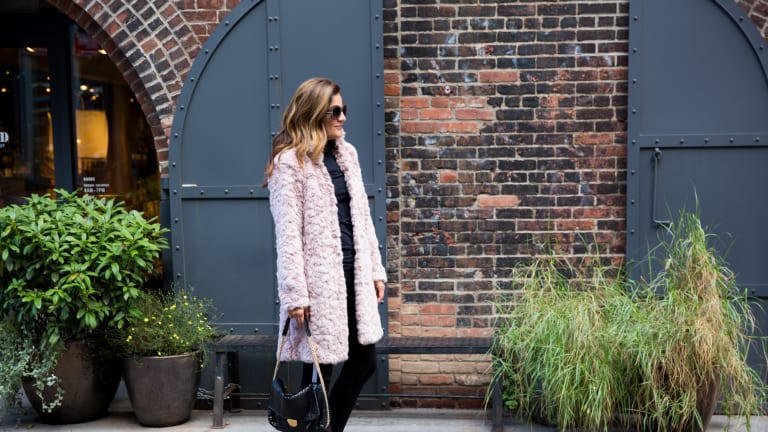 New Arrivals from Cabi
Fall Is looking Very Chic
It's finally time to slip on a coat. And nothing could be more fun to slip on that this Contessa Coat from cabi. It's part of the new arrivals from cabi, a small collection that delivers after the fall line arrives and before the holidays. 
From dressing up denim to topping a dress, this coat is anything but basic. I say, fall is looking very chic when you shop cabi. It looks and feels like rabbit, but it's faux. NO ANIMALS were harmed in the making of this coat. Like all cabi, you need a stylist to help facilitate your order. Head to the website to find a fabulous stylist near you. Shop the Contessa Coat here.
It's got pockets and hook closures and I love the length. To see more of the cabi collection check out this post from the fall line. Loads of instagram friends loved the look of this coat:
Styling a faux fur coat
I love mixing sportswear with fancier items. I paired the coat with the West End Leggings from Peach. Peach is an athleisure brand I've been wearing  for about a year now. The clothes are trendy and less expensive than lululemon. This striped pant is slimming and so comfy. I've been wearing this to travel all the time.
I love it mixed with the luxe fabric of the coat. 
Shop the Peach Collection here with my referral code.
The perfect earrings from Ayllu
I added a few "vintage" touches like a Stella McCartney bag and some Robert Clergerie suede boots --two items that have been in my closet for a while. I also put on new earrings. They are from Ayllu, a designer I spotted at the NY Now show. The Ayllu Come Together Studs are only $29 and symbolize the coming together of a community. I love supporting small designers and these earrings are fabulous. 
Oh, and I added these chic Loft sunglasses I picked up at the Manchester Designer Outlets. Read more about my shopping trip here. 
Pin it and style it!
Use pinterest to save and plan your fall wardrobe.
This new arrivals from cabi post is not sponsored. Samples were provided and they did pay for an instagram post. I loved the coat so much I decided to do an additional feature.