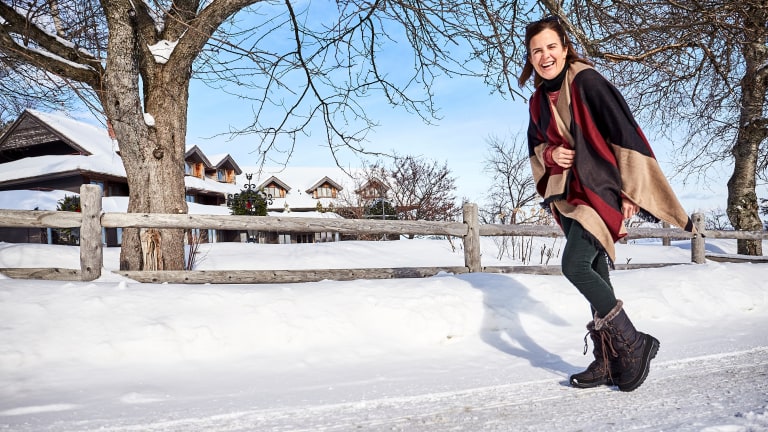 Naot Boots for a Warm Stylish Winter
I'm always on the hunt for stylish pieces that can help me embrace the cold. Naot boots help me play in the snow and stay warm.
Let it snow! That's what we say if it means we get to pull on stylish boots. I"m all about cozy chic fashions, winter is my season. And I'm always on the hunt for stylish pieces that can help me embrace the cold. Naot boots help me play in the snow. They're cute, but more importantly, they have a clever grip that gives women serious traction.
Related: From the Slopes to the Streets with Rossignol Fashion
Naot Invests in Construction and Style
The Naot company started in 1942 in an Israeli kibbutz shoe factory. The brand started with sandals with the theory that that comfort comes first. In order to make this happen, they studied the footbed. Since they know beaches and sand, Naot designed the footbed to mimic a footprint left in the sand. The footbed is made from natural cork and latex with Italian leather uppers. 
It's All About the Footbed
Since 1942 the company has grown a ton. Naot is now Israel's leading manufacturer and exporter of footwear. The shoes are still handmade in Israel with the same care paid to construction.  And now they've added a winter collection of boots. Since I'm a bit of a snow queen, I just had to try them.
Naot Winter OC Grip System
These cozy boots with faux fur trim are a great style accent for me. I paired them with one of my favorite wraps and green corduroys. In winter, these are the outfits I live in -- layers that can be dressed up or down and that can keep me warm. When it comes to boots, I blanch at clunkiness. The Naot Vail boot is a light nimble boot that looks good. I especially like the way my heel felt nestled into the boot. I attest to the comfort: These are shoes that can stand up to my longest winter walks. 
While foot comfort counts for a great deal, in the winter I also need traction. The OC Grip System helps keep my foot secure on slippery snow and ice. There's a key included that activates the steel studs that are embedded in the sole. 
This system is patented and I've never seen anything like it. The trick is NOT losing the key. 
I'm wearing the Vail boot from the Women's Snowbird Collection.
Shop the boots here https://naot.com/product/vail/
Ready to try them on for yourself? Head to Naot.com for details.
MORE SKI FEATURES FROM MOMTRENDS
PIN IT!
Use pinterest to save your favorite family travel features. Be sure to follow our Ski Moms Pinterest Board.
Photos by Chip Allen chipallenphotovt.com
Momtrends was not paid for this post. We did get a pair of boots to add to our wardrobe.