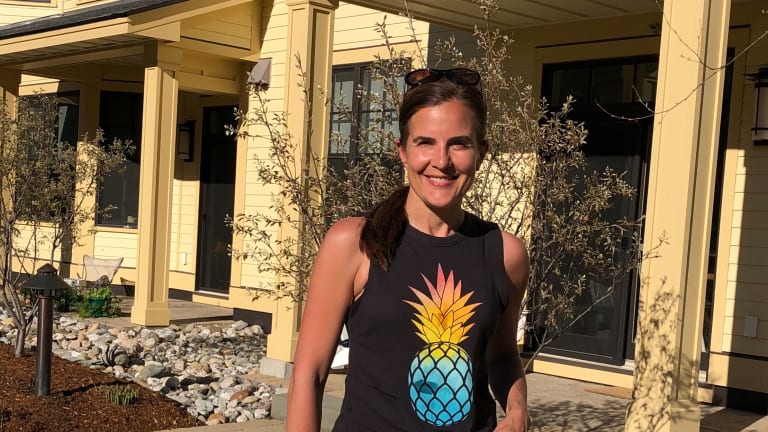 My Favorite Quarantine Outfit for Summer
Keeping it colorful while we are in the time of social distancing. I believe what we wear can have a HUGE impact on how we feel.
Welcome to my summer quarantine uniform. Tank top, sandals, and denim. It will be on constant repeat this summer, the key is keeping it colorful and making it look like I am having a good time. I believe what we wear can have a HUGE impact on how we feel.
Related: Stay in and still look cute summer fashion
This quarantine uniform was scooped up from Evereve during a COVID low point. I freely admit to using retail therapy, to help me through a rough day. I'm happy to report, that late night shopping excursion worked out GREAT. I love the outfit and wear it all the time.
Evereve is a great resource for mom style. They offer the latest trends, but make them accessible for those of us over 25. It's pleasure to shop and I think the service is spot on. 
Sunny Pineapple Tank
I am obsessed with this pineapple tank. When I put this outfit on, my teen said, "Why do you always wear tank tops like that?" I launched into a passionate explanation about why this tank style rocks. 
It's cool and breezy. 
The length is perfect, aka I can tuck it in.
It shows off my arms, which, thank you very much, are very toned for a 49-year-old. 
I can work out in it or wear it to lunch. I love that versatility!
Get the Chaser Pineapple Tank on Evereve here ($53)
Perfect Denim for the Summer of Social Distance
These high-waisted jeans are hiding all the cheese I am eating on quarantine. I'm wearing a 27" in the 7 for All Manking Highwaisted Cropped Skinny in pink. They come in sizes 24-32 making them very accessible. I love the length the color and the stretch. 
Get the pink cropped denim jean on Evereve here ($120)
Best Sandals for Summer
I'm loving these Ella Sandals. I found them on Evereve, but over on Zappos there are even more colors (eight in all). I'm wearing ash brown, its neutral stone color with a bit of shimmer on the toe. It's extremely comfortable thanks to the lightly cushioned PU-like EVA footbed. This Ella Sandal is currently $60 on Zappos with Free Shipping.
Where am I going in this cute look? Not too far from home. I'm exploring the Mad River Valley takeout options, working as an unauthorized teacher and keeping Momtrends here for mom's who need a break. I will keep writing if you keep visiting. Is that a deal?
MORE FASHION FUN FOR MOMS
PIN IT!
Use Pinterest to save your favorite fashion posts. Be sure to follow our Mom Fashion Pinterest board here.
Momtrends was not paid for this post.