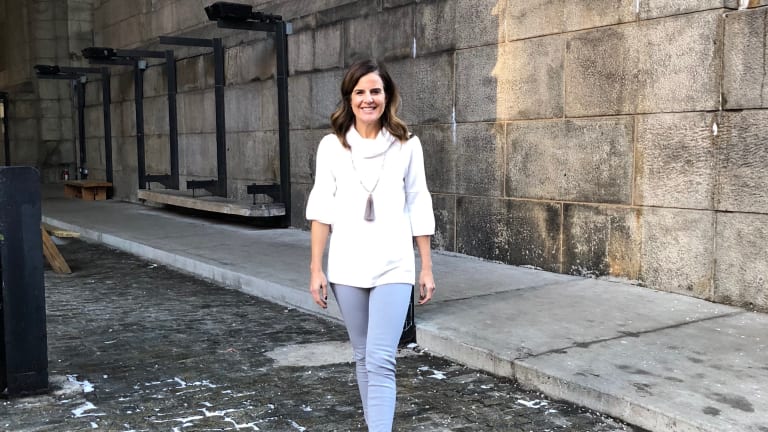 Mom Style Pick Jeggings
Mom Fashion Tips
I have a lot of mom friends who love to stay on trend but hate to shop. They want to stay updated and certainly don't want to be accused of wearing "mom jeans." My BFFs are all working and have kids - they can't scour magazines and websites to find out what will work for them. I love to share my finds, they help me with so many things and I want to help them look fabulous. For January, my mom style pick is the jegging.
Why the Jegging?
Jeggings are a mom's best friend. A combo between sturdy denim and comfortable leggings, they offer just about everything a girl can want in a pant. I find them comfortable for travel (I wore them on a train ride from NYC to Albany for a road test.)
Most of the moms I know live in denim. For many of us they go from work to play - they cover all aspects of mom life. 
The pair I'm wearing is from LOFT. They come in four colors, I'm wearing the windblown grey color. 
January style tip: break up your style rut and add a bit of color to your wardrobe with a grey or off-white jean.
How to Style Jeggings
Since the jegging is rather "fitted" it's about knowing your proportions. In general the fashion rule is, fitted on top, loose on the bottom. And the reverse is true too. If you have a fitted pant, avoid a fitted top, unless you are a fashion model and then do whatever you want!
To keep things looking slim and elongated, a nice lean leg is ideal. I added a winter white and a long necklace (the sweater is from LOFT and so is the grey tassel necklace). You see the sweater covers the waistband of the jeans.
Lou & Grey designed this sweater for LOFT; it's like a sweatshirt that looks dressy enough for date night. It's super soft and a dream to wear. Now if I can only keep it clean!
The boots are a tone that also works with the denim. The color just flows down the leg. A black or dark brown boot would break up the lines of the denim. Let it flow ladies!
What are you wearing to break up the rut of winter dressing? Have you tried the jegging trend? Let me know in a comment. And if you love this style, be sure to pin it to remind you of this outfit!
This Mom Style Picks Jeggings feature is not sponsored.