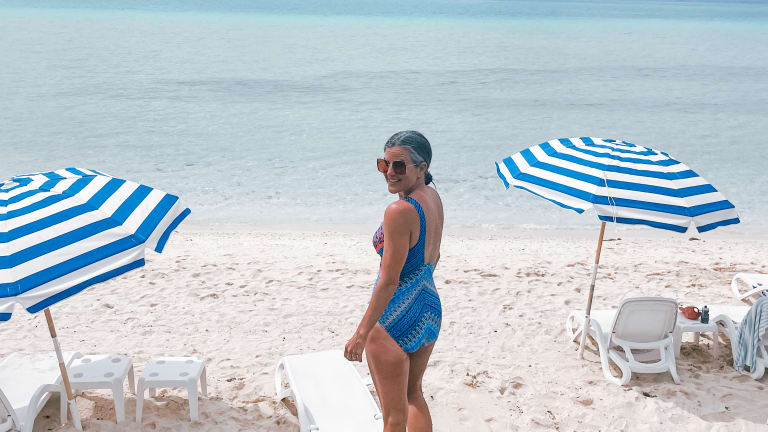 Miraclesuit Swimwear to Fit and Flatter
Help picking a perfect swimsuit for a summer of fun and fashion.
Everyone into the pool! Miraclesuit has a swimsuit to flatter your body and make you feel excited for swim season. No seriously, with these swimsuits you're going to be ready to do the dreaded try on session. It's all about fit. They start with great structure, add in fantastic prints and voila! You are ready for the beach or pool.
Related: The ten best flip flops for summer
Swimwear to Fit and Flatter
The tag line is "Look 10 lbs. lighter in 10 seconds." What does that mean? It's all about the dressing room transformation. You slip on the suit and it's a shape-shifting experience. The suits are structured to lift your boobs, flatten your tummy and firm up your butt. It's not smoke and mirrors. It's the fabric and cut.
They use Miratex which has almost 2x the amount of Lycra® as most suits. Last month I went to the swim preview and since we are weeks away from spring break trips, NOW is the time to shop. Here are some of my favorite trends to shop for swim.
Swim Trends for Summer
Metallic: I love swimwear with a bit of shimmer. MiracleSuit has suits in rich metallic colors. 
Bright patterns: Colors are right on trend this season. Don't be afraid of wearing it. I'm wearing the Miraclesuit Casablanca Criss Cross Escape which is a great example of this trend.
Animal prints: This is a timeless print option. I especially love animal prints in tankinis. 
Jewelry accents: Look for little touches of gold and silver on your swimwear. I love a little jewelry accent near the neckline. 
Skirted Sass: Skirted suits don't have to look like something your grandma would wear. I adore some swing on a suit. The great thing about a skirt is that it hides a lot BUT also shows off a lot. Slip it on for instant confidence.
The Perfect Tankini
What you need to know--most suits come in sizes 6-16 and are priced around $150. And they are worth every penny! MiracleSuit is available at many department stores and on MiracleSuit.com. Now tell me, which one is your favorite?
I'm wearing the Stroke of Luck Nicole top with the Fold Over black bottoms. 
MORE SUMMER STYLE FROM MOMTRENDS
PIN IT!
Use Pinterest to save your favorite fashion posts. Be sure to follow our Summer Style board here.
This is not a sponsored post. This post contains affiliate links.