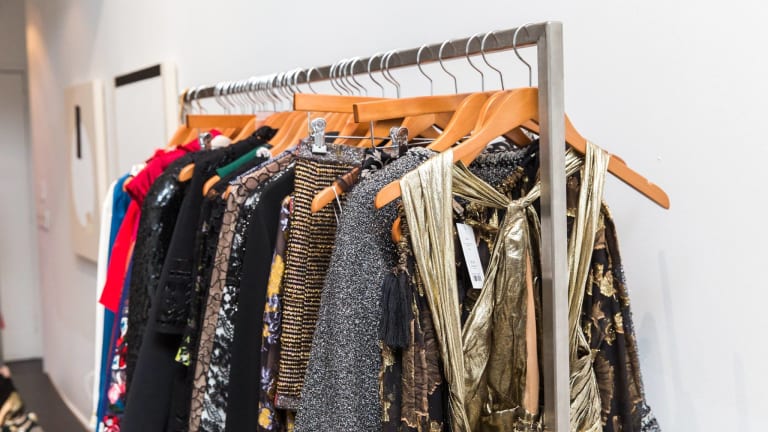 Making Money with The Real Real Consignment
How to use The Real Real consignment service to turn your cast offs into cash with this online luxury consignment store.
I love to keep my closet tidy and organized. It makes putting together outfits easy and fun. That means I stay on top of closet clean outs. I donate quite a bit of clothing to worthy organizations like Dress for Success, but some of my more pricey pieces aren't suitable for the office. I've been making money with The Real Real consignment service ($378 in the first six months) and want to walk you through the good and bad of this online luxury consignment service.
Related: How to shop consignment
How The Real Real Works
I started with The Real Real (TRR) about a year ago. My closet needed a clean out and I noticed some of my pieces were trendy and not businesslike. I decided to give this TRR online consignment store a try. Years ago, I was a power eBay seller, but it was a before I had kids. I made good money, but it was a hassle. I had to deal with shipping and returns and monitor the sales. I wanted a different option. TRR offers a fairly seamless consignment process.
Gather/Sort. First, I went through my closet and grabbed a rolling rack. I collected about 15 pieces to try with TRR. All big names in luxury and all in great condition. A few examples are a Stella McCartney handbag and a Rebecca Minkoff bag.
Set up your TRR account. After sorting, head online to set up your account and book and appointment. This is also a great time to see what brands they accept and the terms of consignment.
Appointment Day. Back before COVID I had options. I could run all the items to the SoHo location or have a White Glove visit to my apartment. I picked the visit. My TRR contact was on time and ready to go. She walked me through the commission process and then took a look at my items. She selected 10 of the 15 items I gathered (skipping all the Ralph Lauren pieces and Kendra Scott). She then photographed and inventoried my items. She emailed a copy of the accepted items to me and packed everything up in a large TRR sack. The sack was to be picked up by a courier and taken to a warehouse for sorting. 
Listing. Seven days after pick up I got an email link to my items. Access is available through TRR app and on my laptop. In real time, I could see the pricing and the "action" on my items. A few things sold quickly and a couple took a month or two. 
Results. Of my 10 pieces, 9 sold within 4 months for a total of $378 commissions to me (my starting commissions came in at 55% of the sales total). Payment comes with options. I have been getting paper checks, but I plan to switch to direct deposit, you can also opt to get credit on TRR site to shop. 
COVID update: TRR isn't doing in-person appointments right now, but they are still open for business. I booked a virtual appointment and met with my TRR representative on Facetime to go over my next batch of items. 
Click here to learn more about consigning with TheRealReal.
What I Like About The Real Real Consignment
Reach. TRR has a huge platform and a big reach. This gives me a HUGE reach for my clothes. It's also open 24/7
Management. They take the photos, write the listing, handle the shipping and returns. This takes all the headache out of selling and is why I pick TRR
Reputation. I've now received five checks for close to $400. I've been using the service for a year and can attest to the legitimacy.
What to Consider with The Real Real
Overall I'm very impressed. I hit one speed bump in the beginning, my first TRR rep forgot to call the messenger to pick up my consignment. The bundle sat in my delivery room at my apartment for two weeks. Finally my doorman asked me about it. The pick up was straightened out (after a very irate call from me) and I was quickly set up Here are the general concerns with this consignment model.
They don't take everything. For example I have some beautiful Ralph Lauren pieces I don't wear anymore, but it's not a brand they take. Same goes for Scotch and Soda and a few other notables.
You make less. Right now I'm getting 55% of the sales. The more I list, the more I will make. Eventually I could keep 85% of the item prices. The more you sell the more you make, and the best commissions are on very expensive items. 
The Real Real Commission Pricing Breakdown
What if the Item Doesn't Sell
The Real Real has a series of timed discounts that they put on your items. Every few weeks the price is dropped until it hits 90% off. After that, some items go to I:CO, a leading global solutions provider for the collection, sorting, reuse and recycling of unwanted clothing, shoes, and textile-related accessories. 
You can also request your items back at any time. If you request your items be returned within the first 30 days after acceptance, you will be responsible for the cost of the return and may incur a $15 fee per item.
If you request your items be returned more than 30 days after their acceptance, TRR will be responsible for the cost of the return.
Other Consignment Options
Here's how TRR stacks up against other options.
Local Consignment Shops: Over the years I've worked with some in-person consignment locations. These shops are nice, but they can only reach a small audience. 
eBay: It's a lot of effort to ship and communicate with potential buyers. I like having a middle person manage this.
Facebook: Again, a pretty small reach compared to a larger online consignment set up and you've got to do the shipping.
Benefits of The Real Real Luxury Online Consignment
Before COVID and kids I had a pretty fancy life. I worked at Ralph Lauren for a nearly a decade and treated myself to luxury brands all the time. My tastes and my budget changed after kids. Nowadays I'm shopping more online and wearing more everyday casual outfits. The Real Real is also incredibly fun to shop. TRR is a terrific place to score deals on luxury brands without paying full price. 
The Real Real is fun to shop for brands at huge discounts and a great way to stay on top of the clutter in your closet. Please let me know of your experiences and if you have tried it. 
Book your TRR consignment appointment here.
MORE FASHION FUN FOR MOMS
PIN IT!
Use Pinterest to save your favorite fashion posts. Be sure to follow our Mom Fashion Pinterest board here.
Momtrends was not paid for this post.