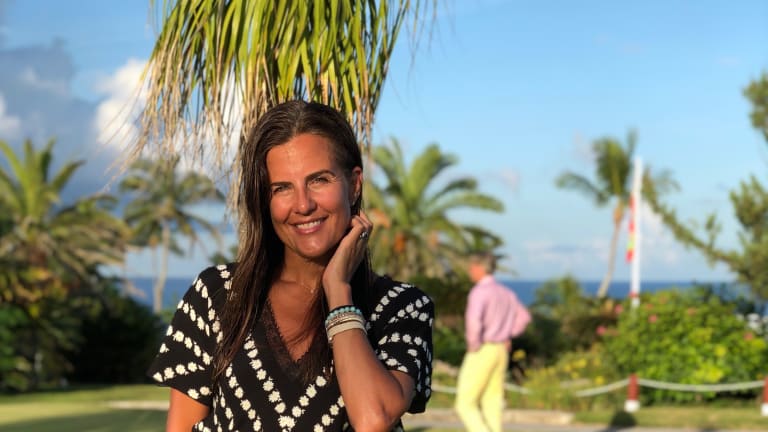 Publish date:
Maje Official Fashions from Paris
Sweet summer dress with daisies
Sweet summer dress with daisies
The summer style question of the week is: is wet hair acceptable. The overwhelming answer was YES! I packed this new daisy dress for a beach trip and thought it was a perfect time to show off these Maje Official fashions from Paris.
Maje Official Fashions from Paris
I found the dress at Maje in Paris. We were staying in the 16th at the Brach Hotel and walked a few blocks to stop into some of my favorite Paris stores. There are some shops here in the US, but it's still a lesser-known brand. 
The daisy dress is currently sold out, but there are still other items with the daisy print available. The designs are trendy, but not painfully so. Lots of bright colors and fun prints. 
Styling the Maje Daisy Dress
The dress is so breezy and simple to style that I brought it along with me to Bermuda. I didn't want to pack clothes that required a ton of accessories. 
As you can see, I'm wearing minimal makeup and wet hair. In the summer, I 100% believe less is more. I added in these Victoria Emerson bracelets and my simple diamond charm I wear everyday in the summer.
The Victoria Emerson Boho Bracelet is a great piece to bring along on trips. The bracelet looks like it's multiple pieces (leather, turquoise beads, Korean wool, etc.), but it's really all held together with a lovely magnetic clasp. It's the only piece this outfit needs.

Five Tips To For a Girl's First Leg Shave
Do you remember your first time shaving? Mine wasn't pretty. I snuck my dad's razor and shaved my legs dry. It wasn't pretty. Get your daughter ready for this rite of passage with the right tools and a quick education. We've got five tips to help you navigate your daughter's ...read more
Why You Should Add Wild Blueberries to Your Diet
Do your New Year's goals involve healthier eating? Adding more fruits and vegetables to your diet? Or even adding tasty new recipes to your repertoire? We've got five reasons for you to add wild blueberries to your diet. Our friends from the Wild Blueberry Association have ...read more
Why Moms are Loving This Blueberry Couscous Salad
It's blueberry picking time. And while most blueberry recipes revolve around baked goods, we've got something different to share. First, a few sentences singing the praises of this lovely fruit. Blueberries are high in antioxidants, improve memory function and reduce the effects ...read more
Once again, I'm wearing the Earth Shoes Oak Chestnut sandal. This was the only pair of dress shoes I packed for our week-long trip to Bermuda. The olive green color matched back to everything that I packed. The 3" heel worked with everything from shorts to dresses.
The sandal is currently on sale for $100 at zappos (click here).
MORE SUMMER STYLE
Want more summer fashion, check out these Momtrends features.
PIN IT!
Use pinterest to save your favorite fashion posts.
This Maje Official Fashions from Paris feature is not sponsored.