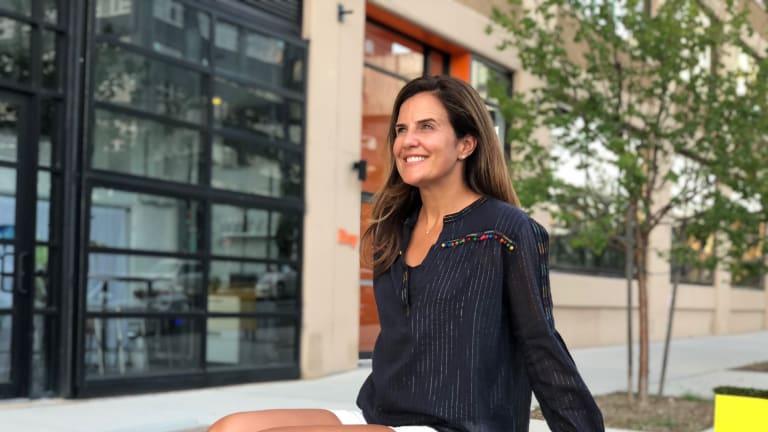 Lessons for Getting Dressed
Teaching Tweens About Fashion
One last photo shoot with my in-house (and I mean that literally) interns. This set of photos was taken by by youngest daughter on her last day of summer break. We spent a ton of time together last week and we talked a lot about my business and telling stories. I told her I use photos to tell stories too. Every Monday, I share an outfit and an idea on how clothes can make women feel great. I wore this simply summer outfit to show her I can feel pretty and put together without having to be fancy, wear a ton of makeup, or spend a lot of time getting ready. 
I decided to spend this Labor Day recapping the lessons I share with my girls every day.
Lesson #1: Take good care of your clothes and they will last longer.
The outfit is really simple, but still makes me feel great. The white denim shorts are from Lands' End and thanks to my Clorox bleach pen, still look great. They get worn again and again. 
I harp on them to put clothes away, hang up dresses, fold sweaters neatly and learn how to remove stains. My 8th grader now does her own laundry and they both are experts at folding and sorting. They are learning the value of what they possess.
Lesson #2: Labels don't matter.
I wear things from Target to Gucci and everything in between. I shop for fit, fashion and quality. Labels really don't mean much to me. I get as many compliments on a dress from Zara that was $34.99 as I do a leather jacket from Ralph Lauren that was priced at $5000 (but I had a retail discount, so don't fret). 
The lesson is that I build a wardrobe around what works for me, not what others tell me to buy. This top is from a favorite boutique in Paris called Berenice. I always send friends there and they are shocked that it's not expensive (it's J.Crew pricing). The clothes are fabulous and I always find something there that makes me happy.
Lesson #3: Wear more of what makes you feel good.
Being a 40+ style blogger comes with some wisdom. I have sorted my closet to include only things that work for my body type and that I want to reach for again and again. You can read more about my philosophy here.
Lesson #4: When you can, support other women with your choices
Shopping for a cause always appeals to me. If I'm going to spend money, I feel better knowing it's supporting another small business for a great cause. Last week I purchased a t-shirt for my teen from ivory Ella. 10% of the purchase went to fight childhood cancer. 
These shoes are another example. Two cousins (read more here) started this footwear brand and I love their vision and dream. Sure, Zappos and Tory Burch could fill my sandal needs, but these sure are cute AND they support  drea,.
Pin it and wear it.
Use pinterest to organize your outfit and give yourself parenting inspiration.
This Lessons for Getting Dressed feature is not sponsored.