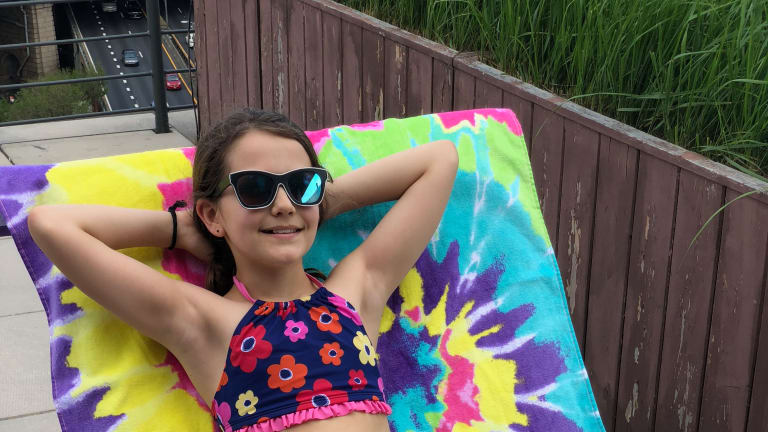 Lands' End Deals #NationalSwimsuitDay
Getting the family ready for summer
Today is National Swimsuit Day and that's something we can all celebrate. The trend is that moms are getting into the action and not letting the kids have all the fun in the water. Lands' End is the destination where I can outfit the whole family for summer in style. And the best news is that today is  #NationalSwimsuitDay (otherwise known as May 22). It's the day Lands' End is giving families an amazing 50% off of Lands' End Swimsuits.
Swim Trends from Lands' End
Lands' End is all about combining trends and wearability. They make swimwear for families that love to get wet and have fun. Check out the full line of Lands' End swimsuits here. For women, we're seeing lots of clever pleating to help create curves where we want them. It's also a season full of sophisticated prints. One-pieces have never looked better thanks to prints that have a European flare. But you know when you get a Lands' End suit, not only will it look great by the time August rolls around, it'll also stay put when you dive in the deep end of the pool.
For kiddos, I'm loving all the bright colors and prints from Lands' End. My girls are all about tankinis and we picked a couple cute ones for this summer. My 4th grader picked this Floral Tankini. I like the "tugless" fit, she loves the style. In a world where swimsuits seem to get skimpier and skimpier, I am so happy that Lands' End is a place where moms and daughter can BOTH get what they want. 
Everyone in my family is loving the Swirl Tie Dye towels. Our pool towels are all beat up and mismatched. This summer we are going to replace the towels with these fun prints. There are three colors availble and at Lands' End prices we can re-stock the pool shed and still have plenty of money left over for that big pool float we've been eying.
One-Day swimsuit sale
TODAY ONLY (May 22) all regular-priced swimwear from Lands' End is 50% off with our special code. Promo code is: Code: SWIM and Pin: 2018
Shop and save on swimwear for women, men and kids, as well as 50% off beach towels, totes, water shoes and swim tees. Plus, get FREE expedited shipping for Friday delivery - just in time for Memorial Day.
Momtrends Tips for Planning the Perfect Summer 
Once you've got the right swimsuit, all you have to do is plan where you are going. Staycation, vacation, Europe or the community pool, it's all about unplugging and having fun. Here are some easy tips to plan the perfect summer with your kids.
1. Create a summer bucket list. Ours included planting tomatoes, a trip to Vermont, dinner on the roof, a camp-out on the porch and a drive-in movie. Poll the kids about what THEY want to do and pin the list on the front door.
2. Get the gear you'll need when it's on sale. Now is the time to get great deals on sunscreen and bug spray. It's also the time when ALL the sizes are available for key summer gear like flip flops and swimsuits. Take advantage of deals like #NationalSwimsuitDay and save 50% when you can.
3. Keep a blank week on the calendar. Sure, it's easy to fill every minute up with camps and trips, but you also need some white space on the calendar. When these unplanned days arrive, check your bucket list.
4. Pack a getaway bag. Stash a picnic blanket, book and sunglasses in your car or in a to-go tote by the door. When you've got an extra 30 minutes before camp pick-up or on your lunch hour carve out a mini-vacay for yourself. For impromptu picnics, I love this Coated Canvas Insulated Tote from Lands' End.
5. Create a family summer reading chart. The kids might have summer books they HAVE to read before school starts. When all the family gets involved in summer reading it's a lot more fun. Make a prize of a trip out to get ice cream when you reach summer reading landmarks.
Let me know what's on your list this summer. 
This Lands' End Deals #NationalSwimsuitDay is a sponsored post. Images may not be reused without expressed permission.