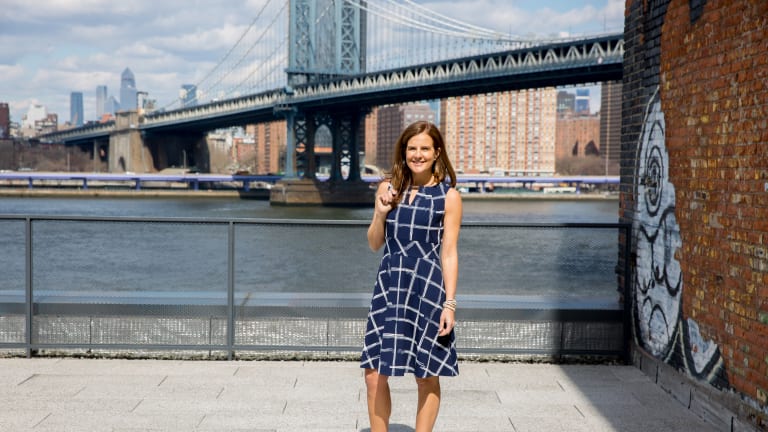 JCPenney Spring Fashion Preview
Opening the Door to New Opportunities in Fashion and Business
For me spring is always a reminder that fashion should be fun. Winter can bring a level of seriousness to style that can be dull. Bur spring promises brighter colors and lighter fabrics, I am excited to get a jump on spring with this JCPenney Spring Fashion Preview project that I'm working on.
Related: How to Wear Stripes in Spring
What I'm Wearing from JCPenney for Spring
Dresses are always a great way to get ready for spring. This Liz Claiborne Sleeveless fit and flare dress from JCPenney is the perfect thing for all the video segments I'll be shooting this spring. Mother's Day always keeps me busy with work. This effortless dress is pretty and polished and barely needs any accessories. Shop the dress here on jcpenney.com.
I added some stacked bracelets and these Worthington Women's Beckwith Heeled Sandals. I love the fancy 3 1/2" heel to dress up my spring. The navy and white print is perfect for spring, shop the sandals here on Jcpenney.com.
More about the JCP Partnership
My business is now a teenager. Happy birthday to Momtrends! I'm not going to (lip)gloss over it. Social media has changed A LOT since I started. Sponsored posts didn't even exist. My business was all about banner ads and clicks. My writing used to be about words and feelings. Now it's about images and influence and the power of selecting the right brands to work with. 
I put a lot of my ideas in my book Mom Boss. The book was published in 2016 and gave me a chance to reflect on what has worked for me. I've learned to stop chasing opportunities and to focus on my purpose.
New doors are opening for me as I pursue my passions and develop business that speaks to where I am right now in my journey. I need my clothes to come along for the ride. These new spring pieces from JCP are effortless and polished and perfect for where I'm going.
MORE FASHION TIPS FOR MOMS
PIN IT!
Use Pinterest to save your favorite fashion posts. Be sure to follow our Mom Fashion Pinterest board here.
This JCPenney Spring Fashion Preview feature is not sponsored, but the coordinating Instagram post is sponsored.