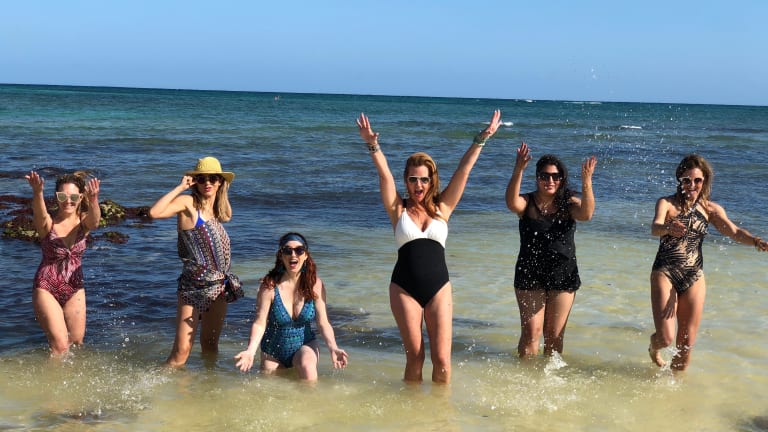 #InfluencerGetaway Momtrends in Tulum
Hitting the Beach with Fabulous Swim Fashions
Here at Momtrends, I encourage everyone to jump in! Experiences are the best currency and the most important part of life. We aren't meant to be social media consumers, we are meant to be DOERS.  When the opportunity came to work with one of our favorite brands, Miraclesuit, we leapt at the opportunity to do something new, and the #InfluencerGetaway Momtrends in Tulum trip was born.
Miraclesuit has been a Momtrends partner for years. It's one of the few brands that really GETS how to do social media right. They know they need to send their fabulous products out into the world. To generate sales and excitement they need to get swimwear on women. While we can all admire swimsuit models, we also want to see what more relatable moms look like. And we want to know: Will that suit stay up when a wave its? Is this suit going to make me feel confident and sexy? 
We enlisted some of our favorite female influencers to join us on this trip, show off their style and test out the latest styles from Miraclesuit and Amoressa.
Here's who came on the trip:
Brianne from StrollerintheCity.com
Lara from PrettyConnected.com
Megan from TFdiaries.com
Danielle from PrettyExtraordinary.com
Rachel from UrbanMilan.com
Mary from DowntownChicMoms.com
We tried to pick women who have passionate fans and who tell it like it is. These are creators who don't need to be told what to do. All we needed to do was give them a swim collection to play with and they were off and running.
The Perfect Setting for #InfluencerGetaway Momtrends in Tulum
Of course, to make the swimwear shine, we needed a stunning backdrop. Our host partner was Dreams Resorts & Spas. Dreams gave us two days at an all-inclusive resort in Tulum Mexico. With 44 acres to explore and a sugary-sand beach, we were spoiled with photo locations. This place really is a blogger's dream come true.
Check out our recap video:
Dreams organized some special dinners for us and truly treated our influencers like VIPs. Look at this glorious setting for our welcome dinner on the Sunset Terrace!
Read the full Momtrends review of Dreams Tulum here.
Getting into the SWIM of things
After a warm welcome and settling in, it was time to showcase the swimwear. This is one sample of the content, as you can see, we didn't hold back on the fun!
Each influencer got to pick a couple suits to style. I picked two sexy suits from Amoressa. Amoressa Swimwear is a high-end fashion line of figure-flattering swimsuits. The suits are sexy and refined. Each suit is engineered to make me feel sexy and strong. I love the sophisticated prints and the embellishments. Read my full review of the suits here.
Miraclesuit Magic at the Beach
The Miraclesuit motto is to combine fit, form and function. Since swimwear is what they do exclusively, they know how to structure a suit to make a woman feel empowered and gorgeous. It all starts with the innovative fabric. They call it Miratex® I call it revolutionary. This fabric offers three times the control of ordinary swimwear fabrics. When you slip this on, you won't feel like you are in a girdle. Move, play, swim, take a zumba class, it's all good. You'll just look awesome as you have all that fun!
Check out these gorgeous ladies in Miraclesuit.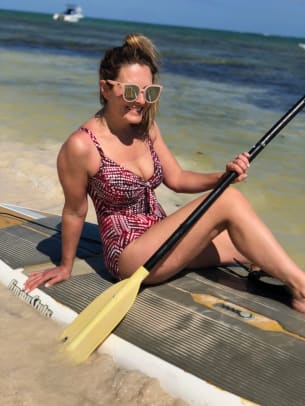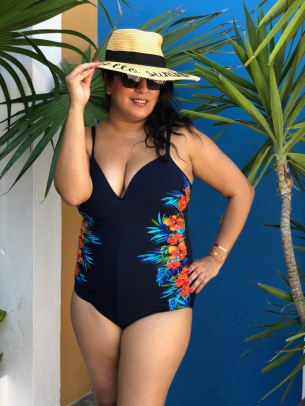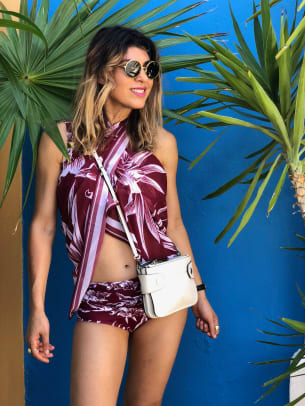 Don't we all want a suit that will make us "look 10 lbs. lighter in 10 seconds®" That's all the time it takes to slip on a Miraclesuit. 
And since I just can't get enough of these gorgeous shots, here's one more:
Beachy Goodies Shared on #InfluencerGetaway
We love highlighting smaller brands too. Each of our influencers received an O-venture key ring personalized with the itinerary from the trip. These key rings are a busy mom's best friend!
Sandals and flip flops were all we needed on this trip. Our lovely ladies got to slip on new Oka-b sandals too. I'm smitten with these stylish beach-friendly shoes. 
Having spent more than a decade working with brands on content, I'm so thrilled at how this event brought out the best in both bloggers and businesses. Women empowering women, that's how the social media space is supposed to work!
The #InfluencerGetaway Momtrends in Tulum was a sponsored event. To get more ideas of what we can create for your brand, contact Sherri@momtrends.com