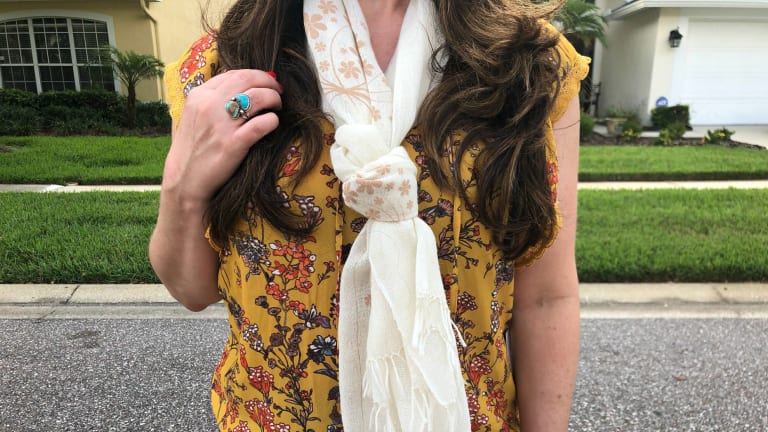 How to Wear a Scarf in Summer
So, have you ever wondered how to wear a scarf in summer? It can be tricky right? You love the finished look that a scarf gives you, but you certainly don't want to add any more layers when it's sweltering out. I get it, really I do. Here in Florida it's downright sweltering this time of year. And that means every place you go has their air conditioners cranked WAY low. So, if you're headed out for a night  out with your honey at a hot new restaurant you've been wanting to try or the summer blockbuster movie everyone is raving about, a lightweight scarf might not be such a bad idea. It's the easiest kind of layer to wear because you can pop it off in an instant. On that note, let's talk about how to wear a scarf in summer...
Related: Stylish beach accessories for a day in the sun
How to Wear a Scarf in Summer
The key is to select a scarf that's the right material. Alpaca fiber is a great option. Not only is it lightweight enough for summer, but it's appropriate to wear all yearl long because it doesn't look TOO summery. Here you can see I chose two throw my Herde de Ferme Queen Scarf on with a printed flower blouse (that came in my latest Stitch Fix box, I'm about to order a new one and I'll share those finds when they come), boyfriend jeans and espadrille sandals.
It's the perfect kind of look for a casual summer date night! And thanks to the lightweight layer my alpaca fiber scarf provides, you won't find me shivering from that frigid AC. You could also try a scarf like this out with your favorite tee and denim shorts. It's just so versatile...as are most scarves! Hence, why they've always been my favorite accessory no matter which season it is. And the fringe...I'll never get over fringe. The hand-knotted self-fringe on this scarf is too gorgeous!
Summer to Fall Transition
Lightweight scarves are also great summer to fall transition pieces. Sure, we're talking about how to wear a scarf in summer, but I could easily throw a little jacket over this outfit and swap out the espadrilles for slip on sneakers or booties to instantly take this look from summer to fall. And since we're more mid-summer and less early summer, I'm focused on adding pieces to my wardrobe that I CAN wear in the season ahead. Fall will be here before we know it after all! And I know I'm not the only girl who lives for fall fashion...That and pumpkin spice lattes. Don't hate me because I'm a tad basic. Bwah!
MORE FASHION TIPS FOR MOMS
PIN IT!
Use Pinterest to save your favorite fashion posts. Be sure to follow our Summer Style board here.
We were not paid for this post. We did receive a sample and it does contain affiliate links.