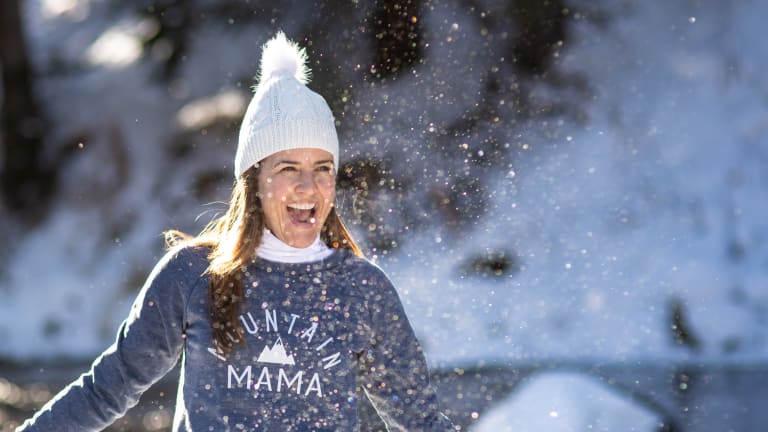 How to Style a Mountain Mama
Celebrating a love of the outdoors in style
With winter arriving this week, it's time to embrace the cold and celebrate snow. Each year, I partner with a new brand to find a piece of clothing that matches my love of winter. How better to style a mountain mama than this top from Made of Mountains!
How to Style a Mountain Mama 
For the perfect top, this year I went to Montana. Britt, a mountain mama herself, is the Founder of Made of Mountains. She knows a thing or two about outdoor life, Glacier National Park, the Bob Marshall Wilderness and Flathead Lake are all a part of her backyard. She designs outdoor-inspired goods for mountain lovers and adventure-seeking families. 
You can feel good shopping this small brand. All the apparel is made in Bigfork, Montana, and 5% of sales are donated to Glacier National Park. Oh, and that's not all to feel good about. You can also save with our special code.
Use code: MOMTRENDS15 to save 15% off
Mountain Mama Pullover
I'm wearing the Mountain Mama Pullover ($46). This slouchy top is perfect for a movie night in. Let the slow cooker do the work, slip on this top and grab a hot cider -- it really is the best of winter! This comfy top has a raw-edge hem that won't unravel.
Shop the Mountain Mama Pullover here https://madeofmountains.com/collections/womens/products/mountain-mama-pullover
For a lighter look, the cream Mountain Girl Pullover ($36) is perfect. It's a slouchy tee with room to breathe. 
Shop the Mountain Girl Pullover here https://madeofmountains.com/collections/womens/products/mountain-girl-pullover
5th Annual Snow Guide for Families
Each year we share our favorite tips for celebrating time outdoors in the snow. This year, it's a mix of travel, fashion and lots of fun. Be sure to click and flip through this year's guide. And make a snowy play date with your family. It's full of reviews and recommendations. Like this recent post about Beaver Creek.
Check out more about this top on page 12 of the 5th Annual Snow Guide here
I'm wearing this top with some great cabi jeans and my favorite Lands' End snow boots. Shop the boots on Lands' End here.
Pin it 
Use pinterest to save your favorite fashion finds. 
This How to Style a Mountain Mama feature is not sponsored. All photos Jack Affleck @vailjack