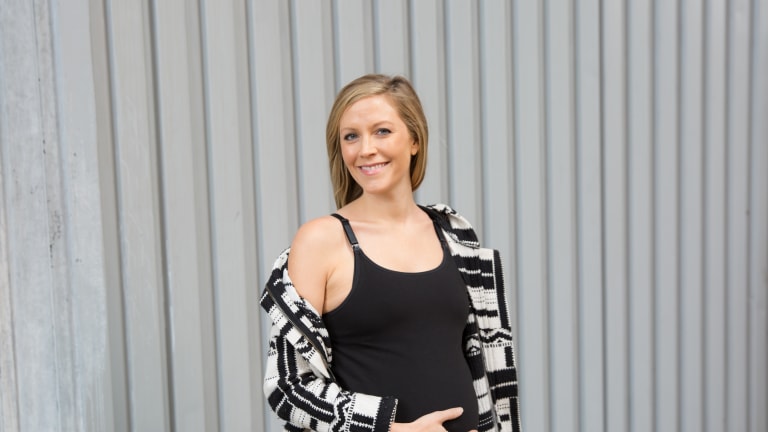 How to Dress Up Your Maternity Basics
Function Meets Fashion With Styles From Leading Lady
Pregnancy isn't easy. Aches, pains, exhaustion, fluctuating hormones, and incessant morning sickness make it anything but a walk in the park. And then there's your ever-changing, always-expanding body; that burgeoning bump and those swollen stretching breasts... It ain't easy growing a baby. 
It's a surreal experience watching your body evolve before your very eyes, and that new body will require new clothes--can't squeeze that watermelon into any ole thing. While a belly-boasting little-black-dress or skinny pair of maternity jeans sure do look cute, the basics are the most important part of dressing your bump. We're talking tanks, bras, and leggings. These essentials will keep you looking good and feeling comfortable from the first trimester until delivery day--and beyond! 
Leading Lady offers an array of intimates that prioritize fit, comfort, and support. We took a few of their top maternity and nursing item for a stylish spin in NYC.
Camis and Tanks
Layering is key in pregnancy and early motherhood. You get hot, you get cold, and if you're breastfeeding, you'll need to be able to get easy feeding access. Start with a tank-top base that's functional and style with chic additions like a cardigan-coat and jeans.
This cami offers built-in-bra support, and provides ample room for a belly to fill. You can wear it alone, under a tee, 
This tank will come in handy long after Baby arrives. Strap clips make for easy and discreet breastfeeding access.
Leggings
A good pair of maternity leggings are hard to find. Many are too sheer, too thin, and not supportive enough. But this pair from Leading Lady fits the bill. A full belly panel hugs the tummy with extra back support and subtle compression for optimal comfort.
We styled these leggings with this fabulous bell-sleeve top from Stowaway Collection. It hugs in all the right ways, and can easily be dressed up or down. A regular military-style jacket and some suede booties complete this simple, but stylish everyday ensemble.
Bras
Don't expect your breasts to stay the same size. They'll get bigger, they'll get smaller, they may even chnge shape. (Ah, pregnancy is such a beautiful thing!) Luckily, the versatile options from Leading Lady will last you this whole exciting journey.
Check out the first post in our maternity style series: How to Build a Capsule Wardrobe.
This is a sponsored post.