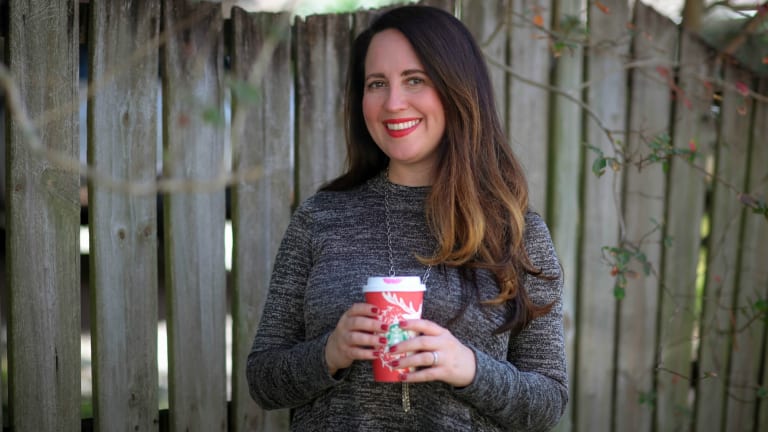 It's coming... Holiday party season is on its way! Hence, why I'm going to share how to be comfortable at holiday parties today. Can you feel the excitement in the air? I can practically hear those glasses of champs clinking! Seriously, before we know it, Turkey Day will have come and gone, and it will be time for us to start thinking about our holiday wardrobes. I don't know about you guys, but I simply adore getting all decked out for holiday soirees. That being said, it seems like holiday party wear is just never all that comfortable. Between constricting dresses and sky-high heels, I end up beyond sore at the end of a party. And who wants that? This mama is all about comfort these days. I'm running ragged most of the time and the last thing I want is to be sore from anything other than my spin class. Bwah!
Maybe it's because I'm no longer in my twenties and feel more comfortable in my own skin, so I don't feel like I have to be uncomfortable to look cute. Or maybe it's because I've decided that life is too short to squeeze into an outfit or a pair of shoes that make me wince. My bum knee, coupled with living thirty something years have taught me just how important comfort is. It's VERY important my friends. I'm of the firm belief that you should not have to sacrifice style for comfort, though. So, let's talk about how to be comfortable at holiday parties shall we? 
How to Be Comfortable at Holiday Parties
First off, let's talk dresses. Sure you can rock a sparkly tunic and faux leather leggings which is the ultimate in holiday style comfort, but you can rock dresses too. You just have to pick the right silhouette. And that silhouette is swingy! No shapewear required, ha! Pick a color like black or grey that you can pair with statement shoes and lips and you'll be fabulously festive without a hint of discomfort! Just remember, if you are going with a looser silhouette, go a bit shorter with your hemline so you look cute, not frumpy.

Save Money at a Ski Swap
Are the slopes in your future? If you want to save money on ski gear, consider a ski swap. A swap is a great way to buy and sell used equipment. Most swaps consist of a variety of gear, from brand new to used skis and snowboards to skis; from poles to boots to bindings and ...read more
The Ten Best Wooden Play Kitchens For Kids
Cooking is a timeless fascination for children. This type of play goes beyond gender and teaches kids loads of life skills along the way. An investment in a play kitchen is money well spent, as it can provide hours of entertainment. We've rounded up the ten best wooden play ...read more
New Victory Announces a New Season of Shows
We know you're busy planning picnics and summer outings, but we wanted to let you know that The New Victory just announced their new season and it looks fantastic. We thought you'd like a sneak peek of what's in store! Each year the New Vic theater brings culture to tourists and ...read more
Next up in our quest for comfort is footwear. I have fully embraced flats the past several years, as they're simply safer for my knee situation. Bad knees do not like falls. But don't cry for me. There are SO many cute flats out there. You, too, can be holiday-ready minus the heels. But make sure you walk around a bit before you take them outside because even flats can be uncomfortable and that is not what we're going for here, right? Now, as far as color goes, I'm a big fan of scarlet red. Nothing dresses up an outfit like a pretty pop of red! And you really can't get a more perfect color for the holidays! Then all you have to do is add a fun statement necklace or earrings (which are really hot this year) and you're good to go. This combo works people. Trust me! I've worn this particular holiday outfit more than once and plan on doing so again!
Shop the post: swingy dress / statement necklace / red flats
More Holiday Look Inspiration
So, are you ready to be comfortable at holiday parties this year? I thought so! And now that we've covered your outfit, let's talk holiday makeup! I shared my thoughts on glitter makeup and whether you're too old to try it. Hint....you aren't! Would I steer you wrong?!
Oh, and I have one final tip for you: Caffeinate, caffeinate, caffeinate!!! I tend to turn into a pumpkin by like 9pm when I'm out after dark, so going in wide awake helps. Oh motherhood...
We were not paid for this post.