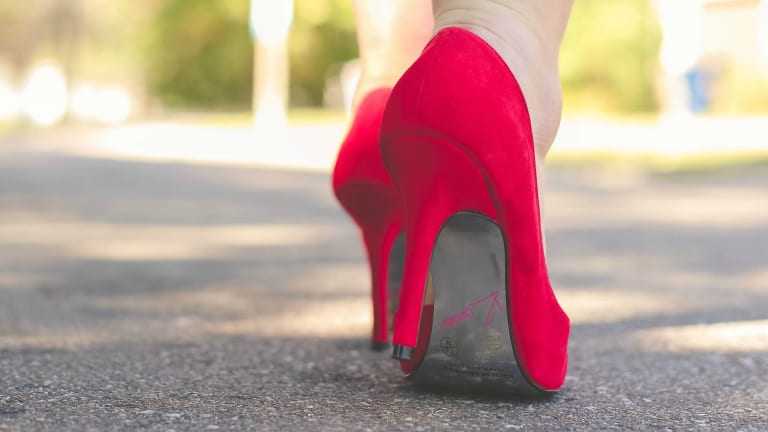 What is the one piece of clothing in your wardrobe that can be worn for practically any occasion? It's the little black dress, of course! And that's exactly why we're going to talk about how to accessorize a little black dress for the holidays. Because you just might not have to buy any new party dresses if you accessorize your oh-so versatile little black dress a few different ways depending on the occasion at hand. There is no shortage of ways you can accessorize a little black dress, but I'm going to show you two today. One is a bit edgy and one a touch more glam, but they're both fun ways to add some pizazz to your LBD! And if you if you feel like it's time to upgrade your little black dress, never fear. I'm going to link to one of my current faves!
How to Accessorize a Little Black Dress
First up, let's talk animal prints shall we? Much like the little black dress, animal print heels are always a mainstay in my wardrobe. They kick an LBD look up a notch in no time flat. And one of my fave ways to accessorize a little black dress includes pairing one with animal print heels and turquoise jewelry. My turquoise ring collection is among my most prized possessions and with good reason. Just like a little black dress, a turquoise ring goes with SO much. Add a bold red lippy or a festive mani to the equation and you have an edgy, holiday-ready party look! It really is that simple.

Save Money at a Ski Swap
Are the slopes in your future? If you want to save money on ski gear, consider a ski swap. A swap is a great way to buy and sell used equipment. Most swaps consist of a variety of gear, from brand new to used skis and snowboards to skis; from poles to boots to bindings and ...read more
The Ten Best Wooden Play Kitchens For Kids
Cooking is a timeless fascination for children. This type of play goes beyond gender and teaches kids loads of life skills along the way. An investment in a play kitchen is money well spent, as it can provide hours of entertainment. We've rounded up the ten best wooden play ...read more
New Victory Announces a New Season of Shows
We know you're busy planning picnics and summer outings, but we wanted to let you know that The New Victory just announced their new season and it looks fantastic. We thought you'd like a sneak peek of what's in store! Each year the New Vic theater brings culture to tourists and ...read more
Next up, it's time to make a statement. I know you have a nice statement necklace in your closet somewhere. Throw that bad boy on with a fun pair of red heels and you have another insta holiday party outfit! Hey, I'm a way-too busy mom this time of year. I know you can relate. This girl needs to have holiday outfits on hand that don't require much, in a word, thinking. Bwah! And it doesn't take any time, or thought, at all to style a LBD as long as you have the right accessories. So, add statement jewelry and red heels to your shopping list if you don't already have them.
Bonus Holiday Tips
Remember, we're here to help you take the stress out of putting together your holiday looks this season. The only thing you need to be worrying about is who's going to pour you a glass of champs. Just sayin'. And for more holiday fun, check out our tips for how to make guests feel welcome during the holidays!
Shop the post: little black dress / turquoise ring / animal print heels / statement necklace / red heels
We were not paid for this post. It does contain affiliate links.