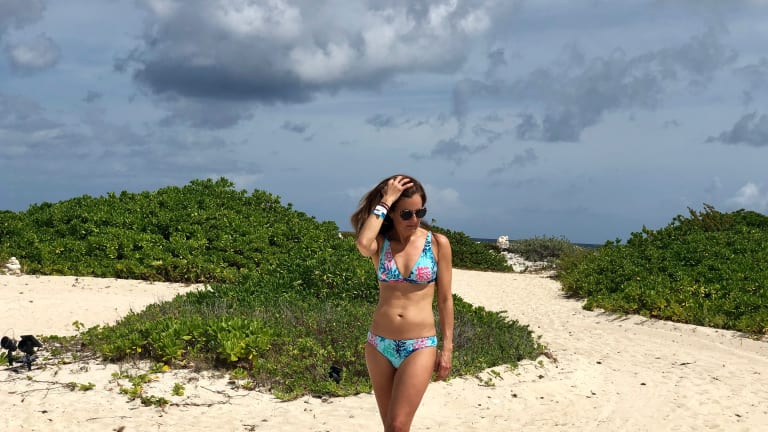 How Old is Too Old for a Bikini?
Do bikinis empower or not and when to say when
It's time to talk about bikinis and women. Recently my friend Danielle, Editor of Pretty Extraordinary got some mom shame thrown her way at the beach for wearing a bikini. First of all Danielle is pretty fabulous from top to bottom (check out our swim shoot from last year). Second of all, who is it to say who gets to wear bikinis and who doesn't. I've been thinking a lot about the question, "How old is too old for a bikini?"
I've been watching the new Hulu series called Shrill and starring Aidy Bryant that started my thinking that most of us can use a reminder that summer and water are supposed to be fun not full of sartorial landmines. In a nutshell, Shrill is about fat acceptance, and that's not where I'm going with this particular post, but there's a fabulous swim scene in the series where women embrace who they are and just enjoy the sun and water. And that's what I want for all of us.
Related: Latest cool yoga apparel revealed
Who Gets to Wear Bikinis?
I've got two young girls who see how I'm experiencing the world as a 40+ mom. I've got to send them the message that I'm comfortable in my skin: in a bikini, in a one-piece, and in my birthday suit. And I wish as moms, we'd help each other out. 
Danielle had another mom disparage her choice of swimwear at a beach. I say, if a mom is putting herself out there in a swimsuit and jumping into playing with her family, how about if we just applaud that and move on.
Life's too short to stay on the sidelines fearing what others might say. But if you do speak up, do the kind thing. Compliment a mama out on her fabulosity and then go about your business at the water park, lake or beach.
Bikinis for Mom
When it comes to bikinis for moms, I say wear what makes you feel fabulous and what makes you feel playful. This Emily Reversible Plunge-Neck Bikini from Vera Bradley does the trick for me. 
It's a reversible bikini in bold, bright prints and I feel pretty fabulous in it. Do I feel perfect? Nope. But I feel confident and ready to play. During the summer, I switch it up between one and two pieces and I don't see a birthday on the horizon where I won't want the option to wear ALL kinds of swimsuits. 
My job as a lifestyle blogger is to try things on and help you pick things that make YOU feel confident and happy. And for many of us, bikinis make us (mostly) happy.
Our Daughters are watching
One place where I do make my opinion heard a bit more loudly is when I see young girls who are teens and tweens posing in sexualized ways on social media. Does this make me a hypocrite?
I'm not sure. 
My point is, a 13-year-old pouting and vamping at the camera is trying some persona on that she might not be ready for. At 40+, I can't even handle some of the comments that come my way about my body. 
When Vera Bradley offered to send a bikini to my daughter I thought about it and then decided "YES." I thought we could show her in a way that celebrated her beauty, strength and playfulness.
Bikinis for Teens
This Olivia Reversible One Shoulder Bikini seems pretty perfect to me. Its stripes on one side and an orange print on the other. It's young, fun and definitely mom approved.
The reversible suit has one shoulder and then an additional  removable adjustable strap. It's not something that she has to fuss over or worry about keeping on. In fact, we took on all the water rides at Atlantis in these suits and felt great.
Make Your Voice Heard
Moms and daughters I'd love to hear your opinions about bikinis. What age is too young to wear them and do they ever need to be retired?
MORE FASHION TIPS FOR MOMS
PIN IT!
Use pinterest to save your favorite fashion posts. Be sure to follow our Fall Fashion Trends Pinterst board here.
This How Old for a Bikini feature is not sponsored.