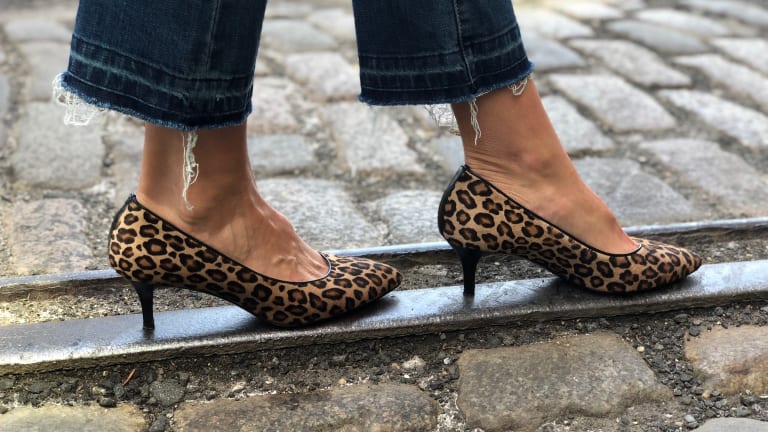 Heels You Can Walk In
Meet Joan Oloff
I love heels. I don't love what they do to my feet and back. Now that I'm well into my 40s, I'm getting pickier and pickier about footwear. I want heels I can walk in. I don't think it's too much to ask. At an accessories preview in NYC, I happened up on a collection of luxury women's shoes by Dr. Joan Oloff.  Dr. Orloff designed shoes for women just like me: I'm a busy women who doesn't want to wreck my feet in the name of style. I crave style and comfort. 
Heels You Can Walk In
Footwear is in her blood. Her family started a shoe business back in 1920. Joan carried on the family tradition of caring for feet by first becoming a podiatrist. Then she combined her anatomical knowledge with her shoe-making knowledge. What she came up with is genius.
Joan studied the foot and reworked the heel from top to bottom. When you slip on this heel you will feel how it molds to your food and follows the shape. The shoe is all about "sharing the load through the foot." This means your toes are comfortable not swished and your heel gets a bit of relief. 
It's like having custom orthotics placed in your fanciest heels. You can walk for miles or dance all night or stand strong as you KILL your presentation.
Joan Oloff shoes come in all heights. For those of you who want a sky-high heel, try the 4" stiletto. As for me, I think about 2" is perfect. I'm wearing the Callie Leopard. This pump is handmade in Italy and it feels sublime. Joan and her team developed a patent pending insole that feels like a sneaker on your foot. I'm all for fashion technology and I'm willing to pay $325 for a timeless shoe like this one. Leopard goes with EVERYTHING and I adore the height of this kitten heel (just under 2").
There are also booties and flats available. All with the special insole. You can see the whole collection at joanoloffshoes.com.
How to Style Leopard Heels
This is a pretty easy shoe to match up to things you already own. For this outing, I wore an off-the-shoulder top from Colovos. You can see the full collection here https://www.colovos.com/ this is from a season or two ago.
When it comes to leopard, feel free to experiment. You can wear leopard with white, gray, navy, black, taupe and all the other neutrals in your closet. I think leopard can also be paired with stripes. It's a great print for work and a perfect shoe to pack for travel since it goes with everything.
I'm planning on packing the Callie pump on my trip to Paris. I will wear it with a strappy little black dress, these crop jeans from cabi clothing and also my denim mini skirt. They will always make me feel chic and I know I can tackle all the walking I do in Paris.
What Accessories to Add
Since I think the shoes are so fabulous, I didn't want to layer on too much else. I picked these tassel earrings from Bauble Bar (only $16). I love the drama of a long earring worn with off-the-shoulder tops. I won't wear much else when I've got on such a dramatic piece.
Perfect Little Bag 
I forgot to share the small bag I carried later that day. It's from FWStyle. It's the Sade mini ($215). I got the bag on kickstarter when the designer was offering a special collaboration. The designer was supporting a Nigerian artist who hand wove the fabric called "Aso Oke". This mini cross body bag is perfect for a night out when I don't need much.
Pin it and Wear It!
Use pinterest to save your favorite fashions and to bookmark items for shopping. Let me know if you try any of our style suggestions.
This Heels You Can Walk In feature is not sponsored. Many of the fashion samples I get are gifted.